Examples of Customer Relationship Management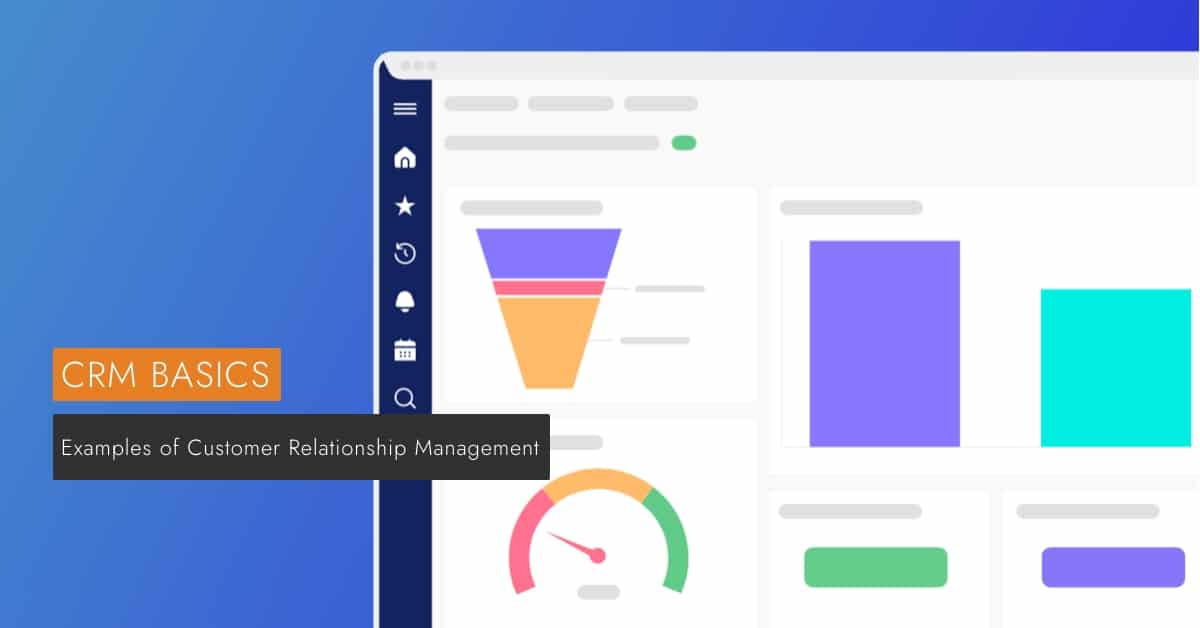 Customer relationship management (CRM) is a practice that enables an organization to better understand the needs of its customers. It helps the organization identify opportunities to meet customer needs and develop new products, services, and experiences.
CRM is a process that integrates customer-focused marketing with traditional marketing activities, such as advertising, public relations, and customer service. It helps organizations keep up with their customers' needs and encourages them to buy.
If you are interested in learning more about CRM and examples of CRM software, read on.
What Is CRM Software?
CRM software helps businesses run their operations all from one place. What makes this possible is the storage, organization, and management of all your customers, leads, and contacts from a single database.
For example, Veloxity makes it easy to search for contacts and view all their communication history, touchpoints, and product purchases. You can even view your leads in your self-defined sales stages, which is ideal for your customer service and sales teams.
CRM software also supports your marketing efforts. Using Veloxity as an example, you can use your email marketing rules automation to automatically assign new leads to different sales teams or segment them into separate lists.
Essentially, a CRM collects data about your customers and allows you to interact with and analyze the data for faster sales, better customer service, and more effective marketing.
What Are the Benefits of CRM?
Whether you're a large corporation or a new startup, a CRM delivers many benefits for today and the future. One of the greatest benefits is the collection of customer data. You can use your customer details to predict future sales, nurture leads, and improve your customer service.
From a customer service standpoint, all the information you need to help your customers comes from a single source of truth, so that no matter who is helping your customer, the most important and up-to-date information is readily available.
CRM software gives your sales and marketing team more time to focus on tracking leads and closing deals. Rules automation takes care of mundane data entry tasks, which can free up loads of time for anyone who has to manually enter contact information.
How to Choose a CRM For Your Business?
Not all CRMs are created equal. That's why we recommend doing your homework and first deciding what you need from this type of software, because you could easily become seduced by the innumerous bells and whistles offered by giants like Salesforce.
So, how do you choose a CRM for your business? To reiterate, you should first make a list of your company's must-haves. Keep in mind, that even the basic CRM software comes with the following tools and features:
Sales pipeline
Contact management
Analytics and reporting
Third-party integrations
Add-ons (at a cost)
If you're a small operation, you may not need to add marketing, social media, or customer service solutions right now. Your budget may not even allow for these monthly costs.
But if your company is poised for growth, you shouldn't choose a CRM that limits your functionality, as you will certainly need a more complex system in the near future to handle your marketing campaigns and generate more complex reports.
Examples of the Popular CRM Software
There's no shortage of CRM systems on the market, so you can afford to be picky. Whether you're selling B2C products through social media influencers or delivering top-tier B2B consultant services, there's a CRM that's perfect for your business structure.
CRM for Creative Startups
Monday.com has done a fine job at appealing to young businesses. With a colorful, modern interface that makes it easy for teams to collaborate and manage projects, Monday.com might just be what you're looking for if you want a social CRM. Users can check it out with a free trial or start right away on the free version.
CRM for Small-to-Midsize Business
While there are many excellent CRMs that fit into this category, we would be remiss not to mention ourselves.
Veloxity CRM is an excellent choice for companies that see growth in their future. With expandable tools and marketing automation, you'll never outgrow Veloxity's functions. The more data Veloxity receives, the more accurately it can predict future sales. And with various charting options, your team can leverage your analytics to address issues in your sales stages and focus your efforts on the right kind of customers. Check out the free trial or get started right away with Veloxity's forever-free version.
CRM for eCommerce
Again, there are many contenders for this spot, but those who are new to the CRM world might want to check out Pipedrive, which is heavily focused on sales success. This ecomm CRM (or eCRM) has loads of tools for marketing and lead scoring, and is one of the most intuitive platforms on the market.
CRM for Enterprise
There's really no other CRM that best suits this category than Salesforce, although Microsoft Dynamics and HubSpot are close contenders. Salesforce is typically labelled as la crème de la crème of enterprise CRMs thanks to the sheer amount of functionality and business solutions. Customer relationship management is just a drop in the bucket when it comes to Salesforce's offerings. For instance, Salesforce also offers marketing, customer service, app development, commerce, learning, and employee wellness, to name just a few.
While Salesforce has a lot to offer, users may find that customization is a bit intense and that users should anticipate some heavy-duty training before successful adoption is possible.
Final Thoughts
Don't start shopping around for a CRM until you've understood your business' priorities. Read customer reviews and consider the costs (time and money) involved with data transfer, CRM Software Training, and implementation. Remember, the more users on your account, the more expensive your CRM solution will cost, so we highly recommend taking your time discovering what options are available.
If you're ready to see what it's like using a CRM on a daily basis, try Veloxity's FREE demo today!