How to Set Up an Operational CRM for Your Business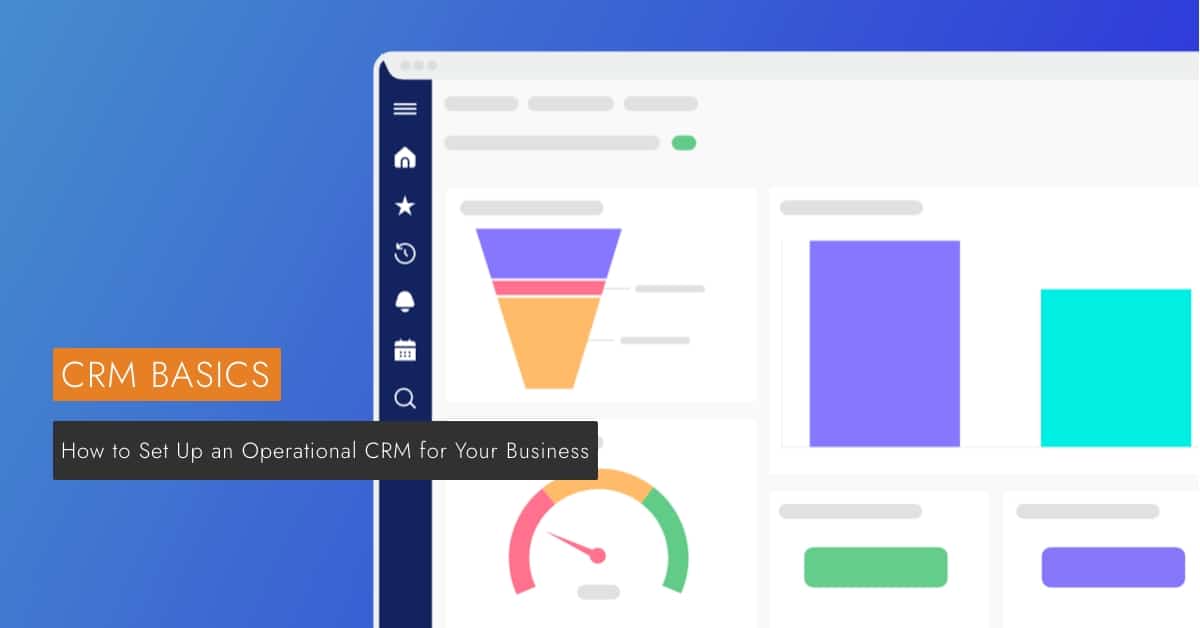 An operational CRM software helps companies manage customer relationships and interactions.
It's a centralized database for storing contact information and business data, and it also provides tools for quickly and easily accessing and exchanging information with customers and other departments.
An operational CRM is especially useful for companies with multiple locations and sales divisions, which can help them manage sales teams and customer relationships and interactions.
In this post, we'll go over the basics of setting up an operational CRM. You'll get the lowdown of the features, benefits, and costs, as well as tips for successful implementation.
What Is an Operational CRM?
An operational CRM is a system that incorporates sales, marketing, and all service automation tools used for storing and processing company information. The system also records and stores all interactions with clients.
An operational CRM works by integrating consumer behavior into customer communication. This feature also helps provide service automation and the ability for a business to handle tasks more efficiently and with fewer steps.
Benefits of Operational CRMs for Companies
Below are some of the top reasons why companies would benefit from operational CRMs:
Synchronizing Communications with Clients
One of the primary benefits of an operational CRM is that it helps synchronize communications with clients. This is achieved because the systems help companies automatically collect data in one place. Therefore, all the data is easy to access from a single location.
Aligning Sales and Marketing Efforts
Another benefit of an operational CRM is that it allows marketing and sales teams access to the same information about clients, contacts, and leads. This improves communication and consistency with clients and potential customers.
Simplifying Customer-Facing Interactions
Operational CRMs also help simplify customer-facing interactions by providing easy access to relevant data. With an operational CRM, you need not worry about wasting time flipping through various spreadsheets, emails, and documents.
First-call resolutions can significantly help with customer retention and higher conversions of new leads.
Boosting Productivity
These systems also help boost productivity by automating the business processes. By taking care of the daily mundane tasks, sales teams and employees can spend their time on other vital business tasks. The system automatically updates a customer's profile with the latest touchpoint or communication.
Features of an Operational CRM software
The following are some of the primary features of Operational CRM;
Dashboards
This is a vital feature of an operational CRM. It is an incredibly beneficial feature for corporate users with complex organizational structures.
Thanks to this feature, CRMs can help reduce bureaucracy and allow company heads to create, save, and share their varying views.
This tool allows you to fine-tune your company's sales statistics for different branches, roles, and reporting purposes.
Buyer Experience Scoring
A CRM helps you store all the relevant information on clients' experience with a product or service. This information can be used later to create content and nurture more customer satisfaction rates.
Management Tools
The following are some management features offered by operational CRMs:
Proposal management: keep track of your projects, quotes, letters, contracts, and other proposals.
Opportunity management: see when potential sales develop. Now you have ample time to respond and capitalize on new opportunities.
Proposal management: keep track of your projects, quotes, letters, contracts, and other proposals.
Accounts management: keep track of various client information. For instance, you'll have all the information about a client's activity, pending deals, payments, etc. This data is helpful when assisting customers with issues or upselling your services.
Customer Journey Mapping
Operational CRMs help companies detect which sales stages show the biggest drop in customer engagement or interest. This helps them improve sales stages.
Reporting Tools
These tools help prepare sales reports for better decision making. The best CRM dashboards display elements like key performance indicators.
Product Configuration
This feature helps provide customers with the ability to select specific product types and options in sales interactions. This comes in handy when dealing with picky clients.
Tips for Successful Implementation of Operational CRM
Below are some tips that will come in handy when implementing an operational CRM in your company:
Assign an experienced project manager for the implementation.
Do not underestimate the amount of time it will take to migrate existing data.
Ensure your staff is trained before the implementation; otherwise, adoption failure might occur.
Choose a CRM product that best aligns with your business needs.
Capture the key information in the system and do not get bogged down by every little detail that you can refine later.
Do not rush the process.
Final Word
Implementing an operational CRM in your company can be a time-consuming process but a worthy investment. Start your journey of finding the best CRM by determining your budget and listing your business' needs.