Is It Hard to Learn a New CRM?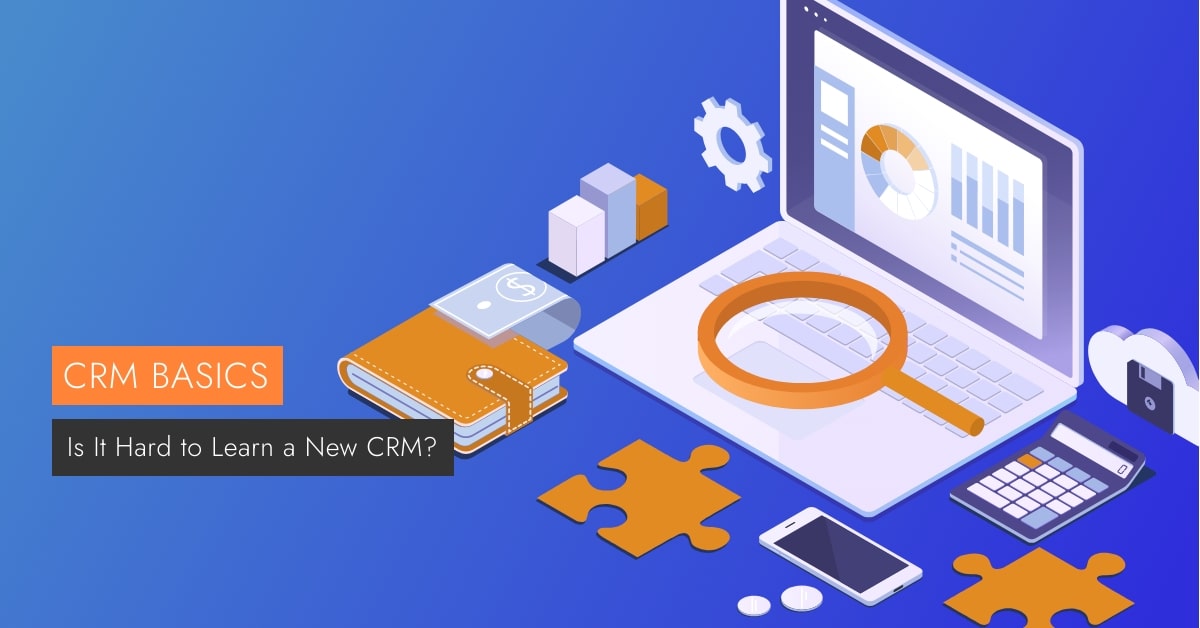 Whether your business is transitioning to another CRM product or your team is adopting one for the first time, you might be wondering "how hard is it to learn a new CRM?" If you're still on the fence about investing in a customer relationship management system, you're not alone.
In this post, we'll go over the various barriers that may be in the way of implementing a CRM software and how you and your team can overcome them.
So, if you're worried that a CRM will be too difficult to adopt, keep reading.
How Long Is a Piece of String?
Is it hard to learn a CRM? The real and unsatisfying answer is, it depends. Just with learning any new skill or program, it takes time, organization, and a willingness to learn. There's certainly a wrong way to go about CRM implementation, which can make learning it brutal for you and your team. But if adopted correctly, you won't find it difficult to learn a CRM.
That being said, we can't stress enough the importance of training every employee who is expected to use the new system, but more on that later.
What Are the Benefits Of A CRM?
CRM software can improve your sales processes and your relationship with your customers, but just in case you need a little reminder of how it can also improve the flow and consistency of your entire operations, here are some common CRM features:
Visual sales pipeline
Rules automation
Email marketing templates
Analytics and charting
Sales forecasting
Social media management tools
One of the greatest benefits of a customer relationship management software is that you can train it to do the heavy lifting. If set up correctly, a CRM should free up your time by taking care of mundane or repetitive tasks, such as data entry and lead assignment.
While there is a learning curve when it comes to creating rules, you're never far from the resources and tools you need to help you.
For example, creating a new opportunity assignment rule in Veloxity CRM is as easy as heading over to our Support Centre and following these easy steps.
What to Expect from the Implementation Process
You do not need to know how to read code or programming language in order to implement your new CRM system. The more time you spend researching the right CRM, choosing the features that will help your business processes, and preparing your data, the smoother the implementation process will be.
Many businesses choose to invest in a CRM in order to improve their customer service and streamline processes for their sales team. If at this point you don't already have a consensus on how your sales reps manage incoming leads, for example, a CRM will help.
How to Make Your CRM Easier to Learn
Get Departments Involved
Before you decide on a CRM, be sure to speak to your marketing, sales, and customer service teams about what features they need. You can avoid adoption failure by making a list of the top features that your teams actually need to improve their processes.
Excluding departments from these early conversations may make it more difficult for your employees to learn if they can't make any use of your CRM features.
Schedule Training
We've said it many times in previous blog posts, and we're saying it again: train, train, train your staff.
You've invested time and money in your new CRM system, and training your staff is part of that investment. While it's true that the best CRM products out there are easy to learn, you shouldn't expect everyone at the office to intuitively know how to use it.
Training not only ensures that your employees feel comfortable using your system on a daily basis, but it also guarantees your team is using the software to its full potential.
Audit Your Data
As a machine-learning software, your CRM will only be as useful or as accurate as the information it receives. Therefore, you don't want to feed it tons of outdated, inaccurate, duplicate, or unnecessary data.
Performing a data audit before transferring it to your CRM (and regularly after that) will provide your team with more accurate sales predictions and reduce the amount of time needed for the data transfer.
A data audit will also ensure consistency, which speeds up the adoption process.
Try Our CRM For Free
In conclusion, there are enough resources and CRM courses out there to learn the ins and outs of whichever software you choose. Veloxity CRM makes learning easy with our free resource centre and out-of-the-box features that are easy to customize.
Schedule a free demo today to see how easy it is to use our software.