Small Business Marketing Strategy to Accelerate Your Business Growth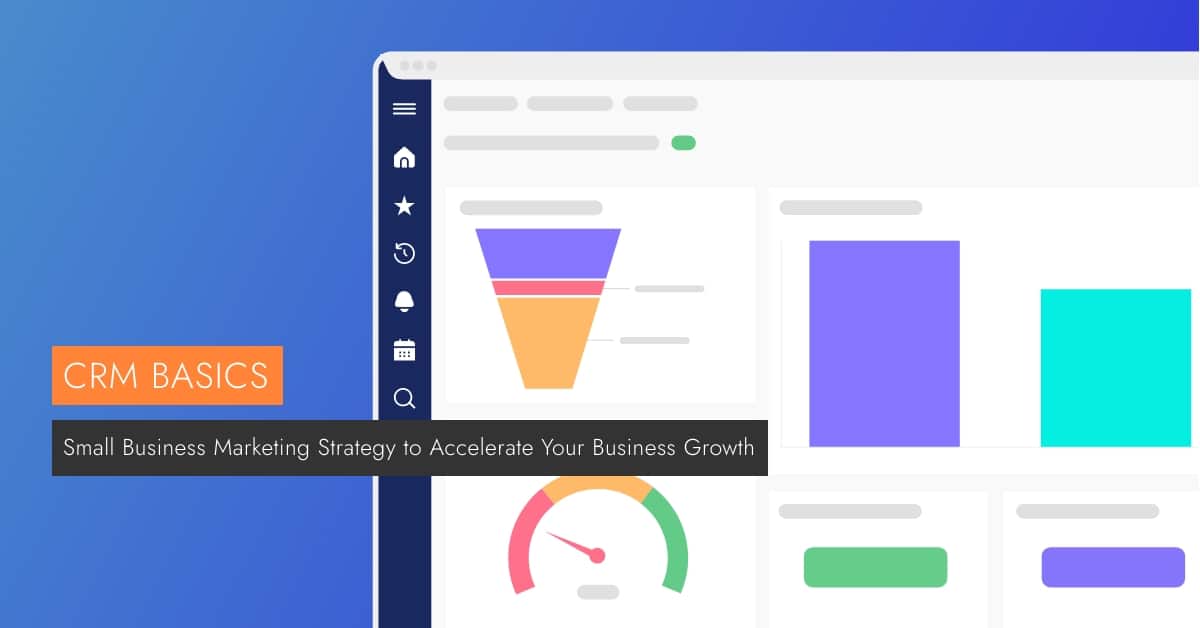 Have you got your small business just up and running, setting up a super-engaging website? Now it's time to gain maximum exposure on a startup budget by growing your customer base. 
With 97% of people exploring local ventures online, it's vital to build a robust small business marketing strategy and meet potential clients where they spend the most time.
But how can you devise a winning full-funnel marketing strategy that can help you nurture relationships with customers and build a better brand experience besides cracking more deals?
To learn more about how to build a strong marketing strategy to make your small business grow with ease, read on.
What is Small Business Marketing
Marketing is the strategic process of researching, developing, and delivering value to fulfill the requirements of a well-defined target market/audience in terms of services and products. To achieve your marketing goals of boosting your company's brand awareness and creating a pipeline of high-value prospects, you need a customer-centric foolproof marketing strategy – a long-term business plan that can help you promote your company to reach more potential audiences, convert your captured leads into repeat customers and win more sales. 
The components that a marketing plan must include are:
The offerings you will deliver
Who you will deliver it to
How you will deliver it
Who your competitors are
For a small-scale business, marketing means setting up company goals, devising a plan, and channelizing resources to execute the plan of maximizing its visibility. However, it becomes challenging for SMBs to implement and carry out a robust marketing plan, mainly due to resource constraints and budgetary restrictions to onboard expert employees. 
Benefits of Creating a Marketing Strategy
Whether you are a startup with small teams, struggling with a tight budget, or juggling between time and tasks to route your efforts in the right direction, a crackerjack marketing strategy can help you get the hang of your business as you scale.
The benefits of a robust marketing strategy are many:
Establishing an Intentional Brand: Devising a robust marketing plan is crucial before showcasing your brand to your target audience. Thus, you can stay on top of your competition and give potential customers a reason to choose you over others.
Emphasizing Research: With a thought-out strategy in effect, you can analyze customer data, feedback, and historic trends efficiently to filter out less-effective advertising tactics and ensure your marketing efforts can bring the best possible value to your company.
Simplicity: Having a well-planned marketing plan means your company objectives, messaging, and branding are clearly defined – performing daily marketing tasks becomes effortless for your teams.
Aligning Company Efforts: A company-specific business plan helps your team set and refine the business vision, stay focused on the set goals and allocate budget and business resources where essential.
Small Business Marketing Strategy
Let's go through some elements of cutting-edge, customer-centric marketing strategies that can help overcome most marketing challenges small-scale businesses frequently vocalize.
Know Your Audience
There is no one size fits all business strategy – not everyone is going to buy from you. In fact, the goal of marketing is to reach out to the right customer base at the right time with the right type of offer/service.
Each company caters to a distinct niche, and thus, each business needs a marketing strategy specific to its vision and goals. And while defining a business niche and selling your business to the customers within your set niche, you must better understand their demographics, preferences, concerns, pain points, triggering events, and more. Thus you can
curate hyper-targeted messages and tailor your offers to push your target audience to buy from you.
Outline Your Product Values and Benefits
The most viable way to build up and maintain a long-lasting relationship with your potential and present customers is to connect with them through your brand and the products/services you sell – outlining your product values and how they can benefit the customers is crucial.
To efficiently define your business values and benefits, find out:
What makes your product stand out from the pack?
How better can your products solve your customers' issues?
What do customers get from my products?
How much value can your business bring to your customer base?
Now that you are done with defining your business value, it's time to tie them back to each target audience's profile. So you can tailor your services/products based on their issues, preferences, and expectations and incite them with hyper-targeted marketing emails/messages to make a purchase decision.
Improve Your Website Performance – Don't Cut Corners.
No matter how small a business you own, having a professional-looking website set up is crucial when it comes to modern-day online exposure and digital marketing. Each element of your marketing strategy will ultimately come back to your website.
An attractive and well-optimized website is a key to boosting your company's credibility and establishing your small business as a brand, a platform to uphold your company's identity and the services you offer and lets customers reach you easily.
Capture Quality Leads through Website: Don't forget to have web forms on your site as a bridge between your potential customers and your brand. Webforms are great for surveying customer feedback and collecting customer information, like contact and shipping details, preserving that data for further analysis, or guiding it in any way you consider fit.
Showcase Your Business and Brand: Your website is the anchor in your marketing that you can use to share feedback from happy clients, useful content, and more to stand out from the pack. 
Make it Mobile-friendly: Making your small business website mobile-compatible is the call of time when mobile shopping is taking over from in-store shopping, and around 50% of total global web traffic is made up by smartphones. Having a mobile-friendly website means your website will load faster, and customers can enjoy a streamlined viewing experience across all devices – your chances to rank higher on Google and improve conversion rates increase exponentially.
Make Use of Marketing Channels
Maximizing the use of marketing channels is a must to expand your business reach. Research your target audience, evaluate the channels your most customers use and prioritize them to make your marketing strategy a smash hit.
Pay-per-click (PPC) Advertising: Helps SMBs display advertisements, especially in search engines and social networks, and drives more traffic to their websites based on the keywords people search for.
Social Media Marketing: Using social media/networks like Twitter, Facebook, LinkedIn, and Instagram to market and sell a company's products and services
Content Marketing and SEO: Producing eye-catchy, SEO-optimized content can help your SMB website rank higher on search engines and drive more traffic to your site.
Email Marketing: Email marketing is a great marketing tactic that can help you sell your business to the people in your company's email list as well as incentivize client loyalty most efficiently, making them well-aware of your newly-launched products, offers, discounts, etc.
Use CRM
No matter how well-planned marketing strategy you develop, if you endlessly juggle between spreadsheets and isolated systems and struggle to keep up with the leads flowing into your business as it scales, you are doomed to failure.
Switching to a quality CRM like Veloxity can help you efficiently track customer interactions, follow up with leads, and deliver proactive customer service to improve your Customer Lifetime Value.
Organizing customer data in unique holistic profiles and getting them at your fingertips have never been this easier – thanks to Veloxity's best-in-its-kind segmentation filtering, tagging, and data augmentation. Plus, you can create hyper-personalized emails using Veloxity's powerful Email template Builder, schedule mail-outs, and even track your email marketing performance in real-time – your reps can channelize your sales cycle from leads to cash by translating your marketing efforts into business values with ease.