Top CRM Management Best Practices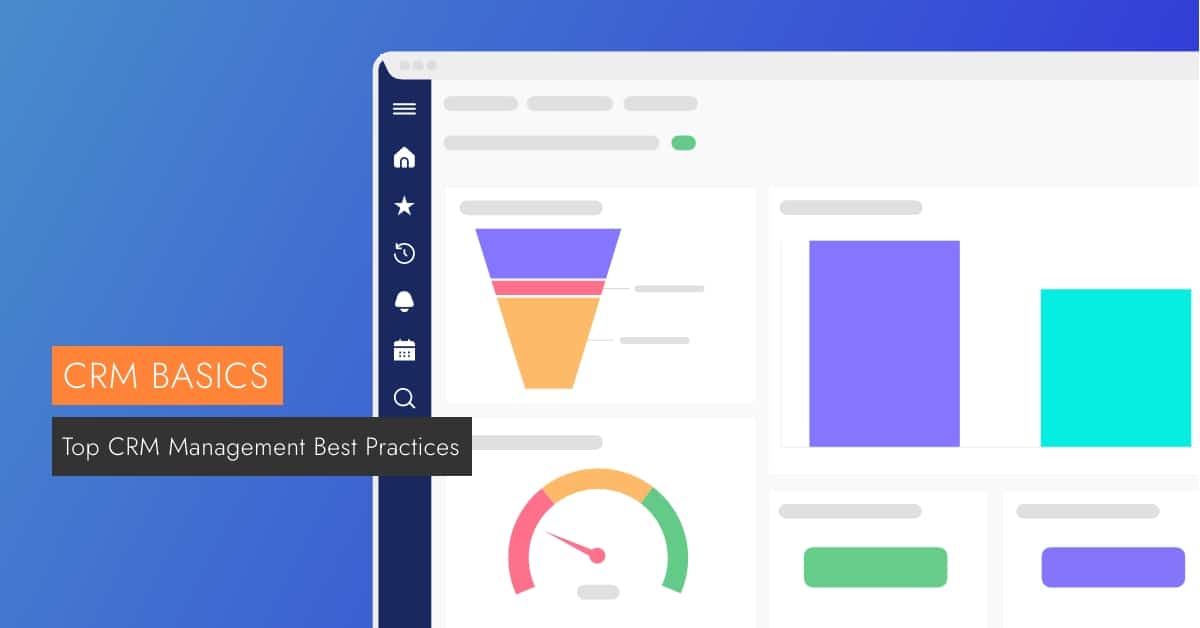 They say a master is only as good as their tools, and the same can be said for CRM software. If your company is using CRM software but you're not sure if it has been a worthwhile investment so far, you might need a refresher course on CRM management best practices.
CRM software is a data-driven software designed to streamline sales processes and improve business–customer relationships. The best CRM systems offer a series of features and tools to facilitate data management and customer service.
And if you're following the software best practices, you're likely seeing a huge increase in your ROI.
In this post, we'll go over the top CRM management best practices to show you how to make the most out of your software.
Find a CRM Platform That Meets Your Needs
If you're in the discovery phase of the CRM-buying process, we recommend researching your options before buying. Choosing the first CRM system that pops up in a Google search result page might be a tad too hasty.
Sure, you're likely going to find the most popular CRM systems on page one, but that doesn't necessarily mean that they're the right platform for your budget or specific business needs.
For example, not all CRM software handles data the same way. If you're looking for robust data management tools that can help you aggregate and analyze large amounts of customer data, you're better off using Veloxity CRM and HubSpot than Less Annoying CRM.
What you'll need to consider:
Affordability
There are more costs to consider than the initial subscription fee per user. Don't forget to factor the cost of transferring customer data, training your staff, tax, premium features, etc.
Available tools
As mentioned above, the features you need may cost you extra, whereas you may be trapped with a wealth of features that your small business doesn't need. When researching the right customer relationship management software, you'll also need to consider what tools and processes are essential, and what is an unnecessary expense, and the right subscription tier that offers all of that.
Expandability
Small businesses typically won't need the same level of sophistication or number of features than, say, a major corporation with thousands of global customers. But if expansion is in your future, then you should find a software that can expand with you.
For example, Veloxity's platform allows users to enable other applications for more usability whenever they need it.
Train Staff to Avoid Adoption Failure
CRM implementation will succeed or fail on a staff member's understanding and comfort level with your CRM product. It may slow down the implementation process, but proper staff training ensures that your CRM product will be used correctly and to its maximum potential.
There's no denying that CRM software offers enormous benefits to companies, but if your staff isn't using the CRM as your go-to platform for all customer-related issues, you'll start to see holes and inconsistencies in your sales processes and you may soon be facing the same organizational issues that prompted you to invest in a CRM software in the first place.
Regularly Audit Your Data
Before you move your data to your CRM, you'll want to give your customer details a thorough inspection to ensure your forecasting and future analytics are clean and correct. Here are some simple ways to stay on top of your data before and after you migrate it to your CRM:
Before importing your customer information into the CRM, clean up unnecessary, outdated, duplicate, and incomplete data. While these data points may be puffing up your numbers, they are likely distorting your analytics.
Keep only the crucial data; don't clog up your CRM with data that has no value
Standardize and enforce consistent data labelling
Use automation as much as possible
Use lead forms on your website to capture valid contact information
Make Use of Automation Tools
One of the most helpful features of CRM software is its automation tools, but many companies aren't using it to its full potential. Automation not only frees up precious employee time by taking care of everyday tasks, but it also helps prevent data entry errors.
Veloxity's rules automation engine allows businesses to automatically assign ownership of leads, accounts, and opportunities. But it also gives users free rein to create their own rules with our powerful rule builder.
In Summary
It's no secret that the SaaS industry is flooded with CRM products. You won't have any problems finding a CRM solution that comes with the features you need at the right price point.
Follow these best practices to ensure you're using your CRM product to its maximum potential, and you'll immediately start seeing results.
Want more advice on how to use your Veloxity CRM features? Head over to our Help and Learning Center to expand your knowledge.