Higher Education CRM Software: The Best Options for Your Business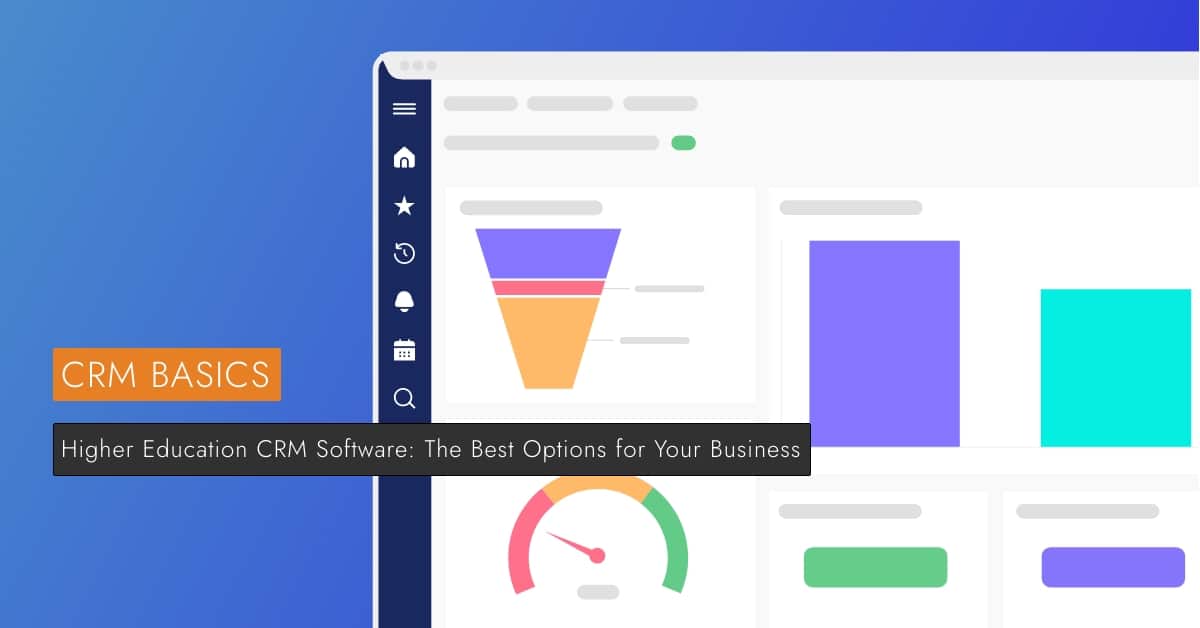 When it comes to increasing customer retention and business growth through technology, one of the easiest ways to make an impact is by using CRM software.
A CRM or Customer Relationship Management system is designed to help companies better understand their customer base and develop customer relationships.
It is crucial for businesses that depend on customer relationships for their success. It's also critical for higher education, where customer relationships are often a key profit driver.
What is an Educational CRM?
CRM, a blend of a powerful business strategy and technology, aims to help businesses bolster profitability and revenue, produce proactive customer service and promote customer-centric business activities.
A higher education CRM is a specially designed CRM that acts as a complete educational platform to help educational systems manage administrative, marketing, and sales tasks, track and follow up interactions with their stakeholders across all communication channels the institutes are present, and more. It updates customer data and streamlines workflow, thus helping staff members to maintain lasting relationships with current and prospective students, donors, alumni, and everyone associated with the institution – the result is higher retention, conversion, and admission rates, happy students, and employees, and the list goes on.
But who can use education CRM software? Let's look through:
Schools
Colleges
Universities
Distance learning schools
Online tutor
Professional speakers and more
What Should Higher Education CRM Software Include?
The core CRM capabilities that make student recruitment and stakeholder management process seamless include:
Contact Management: Enables staff members to organize contact data based on segmentation filtering, tagging, etc., in unique holistic customer profiles to help track interaction history.
Team Management: Quality CRM software enables task, message, or meeting scheduling, lead pipeline tracking, features collaborative tools for allowing cross-departmental collaboration from within the system, and more. 
Communications Tools: Many quality CRMs enable real-time communication via messaging and phone, syncs with third-party applications, social media platforms, and other software your institute is built around, etc.
Reporting: Supports AI/ML-based predictive analytics and pre-defined/customizable reports and charts to enable sales pipeline and key business metrics visualization. 
Educational CRM Solution Benefits
Let's look into the benefits of educational CRMs and why they are replacing the legacy systems in educational institutions at a fast pace:
Data Silos Elimination: Though all departments operate separately in an educational organization, they share the same goal – student welfare. Thanks to CRM systems that enable each team to get essential stakeholder data at their fingertips and ensure prompt and personalized customer support.
Time saver: One of the main reasons CRM use is skyrocketing and becoming the leading business market today is its robust marketing automation – employees can better focus on following up the hottest leads, tailoring offers, etc., rather than tracking things manually.
Transparency across departments: Enabling real-time access to historic trends/data and updates in client profiles is crucial for making data-driven decisions during enrollments. Thanks to CRM software that helps gain better visibility into data consolidated by all teams and facilitates administrative tasks.
Best CRM Options For Higher Education
Are you a super-smart EdTech business trying to make knowledge more accessible and eradicate the limitations of those old-school classrooms? Stop juggling between spreadsheets and legacy systems and give Veloxity, the world's most trusted SaaS-based CRM, a FREE try to revolutionize your institution.
This fully-fledged online platform has become the primary source of research for prospective students and made lead and recruitment management, student, etc., collaboration effortless like never before – the admission department can now manage, attract, forecast, and turn even more prospects into clients with zero leakage.
Veloxity CRM Features
Now you can automatically track lead generations and capture, register the latest admissions, and employ automated lead assignment rules for lead routing – thanks to Veloxity's intelligent CRM platform.
Supports seamless integration with tools like Gmail, Outlook, IMAP, ZOOM, GotoMeeting, GoogleMeet to track emails with contacts and opps from the CRM timeline and schedule webinars and meetings from within the system – you can effortlessly provide a seamless academic experience to students and employees.
Veloxity helps educational organizations identify the target audience, attract them with hyper-personalized content and emails tailored to their requirements, the field of interest, website activities, and position in the admission cycle, rolling out targeted campaigns – thanks to Veloxity's powerful email and marketing automation.
Helps institutions evaluate campaign ROI with unprecedented precision that contributes to boosting the number of enrollments via campaigns and give you a complete overview of a prospective student's lifecycle – thanks to Veloxity's ML-based predictive analytics
It comes with an intuitive and easy-to-navigate user interface to boost customer experience – you can get things done effortlessly without strolling around the system.
Salesforce Education Cloud
Salesforce Education Cloud is another market-leading educational CRM provider with best-in-class features. From email and your social media integration to collaboration with stakeholders – everything to power organizational success is available right on the CRM timeline.
Though Salesforce CRM may cost you a bit higher and its UI seems intimidating to some users, the top-class functionalities and the wide range of integration facilities are worth the price.
Features of Salesforce Education Cloud
Supports a wide range of integrated platforms and customization to support the learner lifecycle – the Education Data Architecture (EDA), Admissions Connect, Student Success Hub, Sales Cloud, Marketing Cloud, etc., that can be connected to transform student life
Salesforce Wave Analytics enables educational institutes to draw in and analyze data from various channels, applications, and teams and gain actionable insights by creating reports.
Drive institution and learner success across the complete educational journey using Salesforce AppExchange – a collection of experts and applications.
TargetX
Are you searching for a CRM specialized in higher education and efficient student lifecycle management? Try out TargetX, a Liaison company with state-of-the-art CRM functionalities to boost student experience.
Supporting mailout scheduling and event management to record customization and a fully-fledged mobile application (School App), TargetX has become one of the leading purpose-built CRM to make enrollment, alumni, and student lifecycle management effortless.
Features of TargetX
Seamlessly integrates with SIS and a wide range of payment platforms, including Paypal, Banner, PeopleSoft, etc.
Its Recruitment Suite features intelligent event management, online applications, travel planning, form builder, Uchat, workflow automation, email, text message integration, and more to increase student enrollment.
Now, you can boost completion and student success rates with the TargetX Retention Suit. It supports email and campaign automation, telecounseling, effortless data importing from various sources like applications, test scores, and search tools, and more.