Zoho vs Salesforce vs Veloxity: Which CRM is Right for Your Business?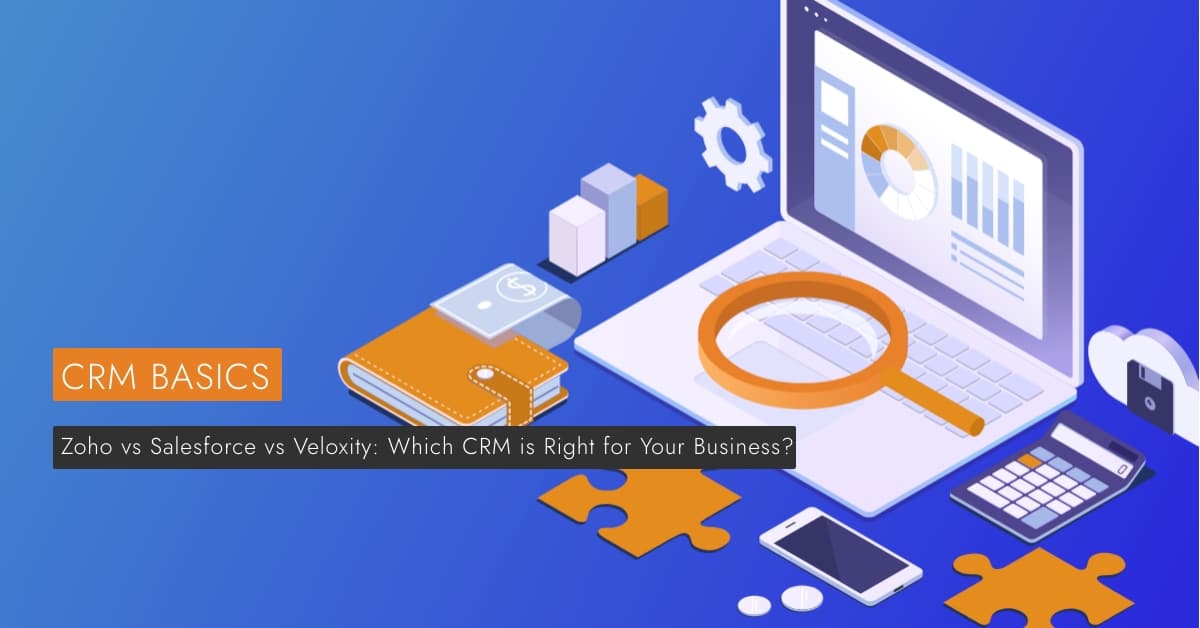 If you're looking for a CRM (customer relationship management) tool, you've probably heard of Zoho, Salesforce, and Veloxity. You might even be confused by the different types of CRM tools out there and which one is best for your business.
If you're considering using a CRM, there are some key features you should consider.
In this post, we'll compare Zoho, Salesforce, and Veloxity to help you figure out which one is best for your needs.
Keep reading to learn more about these three CRM tools:
How We Evaluated Zoho, Salesforce, and Veloxity
We approached this comparison like any other consumer. We looked at the cost of each platform versus its available offerings. We then read the product reviews from real users. Basically, we wanted to know which CRM offered the most value, the highest level of customer service, and the most intuitive platform.
Veloxity CRM
How can we not compare our own platform against two of the most popular CRM products on the market today? Veloxity CRM is an essential customer relationship management system for small, midsize, and large companies. Its intuitive interface is perfect for users with no prior CRM experience.
Veloxity's visual pipeline and self-defined sales stages help you easily see your potential revenue, even at the territory level. Veloxity frees up your time by automating simple and regular tasks with its sentence-based rules engine. With an automated sales forecast, you can more accurately plan ahead.
What's Great About Veloxity CRM?
Small businesses don't have to worry about outgrowing their CRM, as Veloxity's features are designed to expand as your customer base increases and the demands of your sales and management pipeline become more complex.
Free Edition
Robust tools for product management
Fully customizable charts make it easy for users to see the data that's important to their business.
The more data Veloxity has, the smarter it gets
Rules automation engine
Excellent email marketing tools
Native CRM app makes it easy to manage customers and sales pipeline on the go
Who is Veloxity Suited For?
Veloxity is suitable for small-to-midsize businesses, as well as large corporations.
Veloxity CRM is suitable for all business types, including emerging technology companies and even laboratories.
How Much Does Veloxity Cost?
Veloxity has an always-free edition that comes with a long list of available features, communication tools, and expandability. Our Basic Edition starts at $7/mo/user and features the rules automation engine, forecast automation, product and product bundle management. The Professional Edition starts at $54/mo/user and includes lead management, Veloxity AI, calendar sync, and third-party integrations, like Zoom, Google Meet, GoToMeeting, etc.
Our Enterprise Edition, which starts at just $94/mo/user, includes all the features of the Professional Edition plus unlimited webhooks, a landing page builder (coming soon), plus user-defined custom data types. Try any Veloxity CRM edition for free!
Salesforce CRM
Salesforce is often regarded as one of the most popular CRM platforms available. This mammoth platform has a seemingly endless amount of solutions for marketing, IT, analytics, commerce, customer service, and more. It boasts a scalable platform and a user-friendly interface that's easy to adopt, and many customers agree that it's simpler to integrate than Zoho. To learn more read our dedicated salesforce CRM competitors page.
What's Good About Salesforce CRM
Great customer service with various online and in-person training.
Hundreds of third-party integrations and software partners
Highly customizable
Cloud-based platform
What Needs Improvement
More expensive than Zoho or Veloxity. The entry-level edition is almost twice as expensive as Zoho and three times more expensive than Veloxity.
No free edition
24/7 customer support only available on higher tiers. Salesforce may not be suitable for small business owners who don't have any experience with similar platforms. However, there are loads of helpful resources and training tools available to help customers learn the product and find the answers they are looking for.
How Much Does Salesforce Cost?
Essentials Edition – $25/mo/user
Professional Edition – $75/mo/user
Enterprise Edition – $150/mo/user
Unlimited Edition – $300/mo/user
Zoho CRM
Zoho is a powerful customer relationship management platform with a long list of features and third-party integrations that make it a strong competitor against other giants like Salesforce and even Hubspot.
Along with its forty-five other solutions, Zoho can streamline all your business processes into one streamlined package. Add on marketing, customer service, social media, project management, and more—or try Zoho One, which gives you access to all of Zoho's integrated apps.
What's Good About Zoho CRM
Long list of features and third-party integrations
Gamification features
Various Zoho apps
Really helpful email marketing features
What Needs Improvement
Limited features on cheaper editions: While Zoho CRM is designed with small–midsize business needs in mind, its budget editions have limited features and functionality that might not be suitable for many users. (For example, the workflow automation feature is only available starting at the Professional Edition.)
Customer service: Many customers have complained that Zoho customer support isn't as straightforward as it should be, and many have had to be transferred to multiple departments or wait on hold for long periods before getting anyone on the phone.
How Much Does Zoho Cost?
Free Edition – $0/mo/user (up to three users)
Standard Edition – $14/mo/user
Professional Edition – $23/mo/user
Enterprise Edition – $40/mo/user
Ultimate Edition – $52/mo/user
Our Verdict: See For Yourself
The CRMs we reviewed today are popular, customizable, and designed to help businesses succeed. Whether you're a small business or a large corporation, you want to know that you've made the right choice before committing to buy.
That's why we recommend trying each CRM to find out for yourself which one best suits your business needs. We're confident that Veloxity will outshine and outperform both Zoho and Salesforce because of its adaptability, ease of use, and robust list of features.