The Support Process of CRM in Pharmaceutical Industry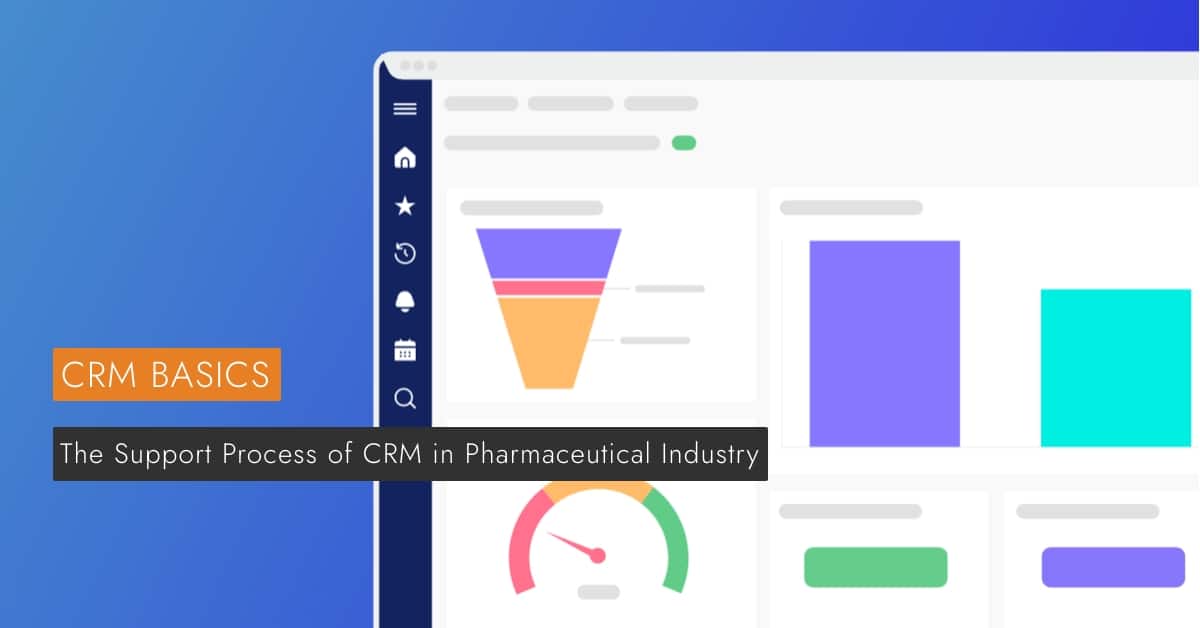 The concept of Customer Relationship Management (CRM) has been widely adopted in the pharmaceutical industry.
CRM is the process of creating, maintaining, and enhancing customer relationships, especially by automating the activities of customer interactions with the business.
A CRM system is essential for improving customer experience, increasing customer loyalty, and creating a positive brand image. It is believed that a CRM strategy is essential for building a sustainable competitive advantage.
What Are The Benefits Of A Pharmaceutical CRM?
In general, the pharmaceutical sector must market a variety of products and services in order to attract clients. Campaigns are a cost-effective strategy to market your company. However, if you use a tool to run your marketing activity, you will have additional benefits. A CRM provides unique options to run an automated campaign intelligently. CRM capabilities enable the sales team to carry out well-planned marketing initiatives that increase sales.
CRM for the pharmaceutical sector improves visibility throughout the whole dealer, distributor, and channel tier. This will assist you in maintaining and strengthening your connection with potential customers. It is simple to receive a reminder when the service expires using the reminder facility. As a result, you can communicate with the client and propose renewal packages. Furthermore, CRM allows you to deliver personalised messages on important occasions, which is critical for building a strong connection between you and your audience.
Quality customer service is the key to any company's success. It is very important in the pharmaceutical industry to provide world-class customer service in order to gain repeat business. A customer relationship management software allows you to efficiently maintain your client database and provide personalised services to them. For example, in the case of a previous query, the system can get all data in seconds. As a result, it is easy to examine the problem and provide good assistance to the client.
CRM's primary function is to save your customer data and allow you to retrieve it in order to take suitable actions. This technique allows your sales team to save time when talking with the cabinets. Furthermore, with a vast database, you must be concerned about the bifurcation of all data. The system will carry out the steps for you so that you may make the most of the information.
When a firm, like pharmaceuticals, requires a huge stock, CRM can help manage the inventory properly. CRM allows for the secure storage of minute medication data. It's also simple to get the information when you need it. You can also recognise the items and services that have been personalised for clients. Furthermore, CRM helps you to save consumer preferences so that you can provide better services the following time.
What Are The Best Practices For Crm In the Pharmaceutical Industry?
Not all CRMs are made equal, and if you choose a CRM without thoroughly examining its capabilities (as well as its shortcomings), you may wind up committing to a system that is wrong for your business. Do you want something that functions in the cloud or something that is on-site? Would you rather have a CRM that requires a service contract or one that costs more to install up front? Is in-depth, highly adjustable functionality required for your company, or will basic functionality suffice? Take your time, consider all of your possibilities, and be certain of what you require before making any final judgments.
Few would deny that CRM has clear advantages. According to Nucleus Research, the typical investment return for CRM systems ranges from $5.60 to $8.71 for every dollar spent. On the other hand, if you fail to properly train your staff on how to utilise CRM, the entire product will be reduced to the status of an expensive filing system. Focus on helping your staff grasp the information being given while doing CRM training. Test your staff on what they have learnt, and give retraining and testing on a regular basis to ensure that everything is retained.
What Are The Things That Are Required In Pharmaceutical Crm Software?
Budgets for promotion and research and development continue to rise, and new laws make many of the tactics employed by pharmaceutical salespeople increasingly difficult or impossible to utilise without technical help. To promote new sales, large businesses and individual salespeople must develop long-term connections with care providers, and they must do so fast, before the particular benefits granted to new patents on drugs expire. Additional rules create new problems, limiting representation and increasing the workload of primary care physicians, making it even more difficult to contact them.
Historically, the interaction between sales people and physicians has been one of slow–paced and pleasant talk, with off–site excursions and lunch and dinner meetings being common. The combination of new rules and increasing medical workload makes it more difficult to develop these casual connections. According to one IDC Health Insights report, the average primary care physician will go from treating 1,500 to serving 8,000 patients. According to the same study, sales agents' window of contact with physicians may be as little as thirty seconds.