Oracle CRM vs Veloxity CRM: A Comparison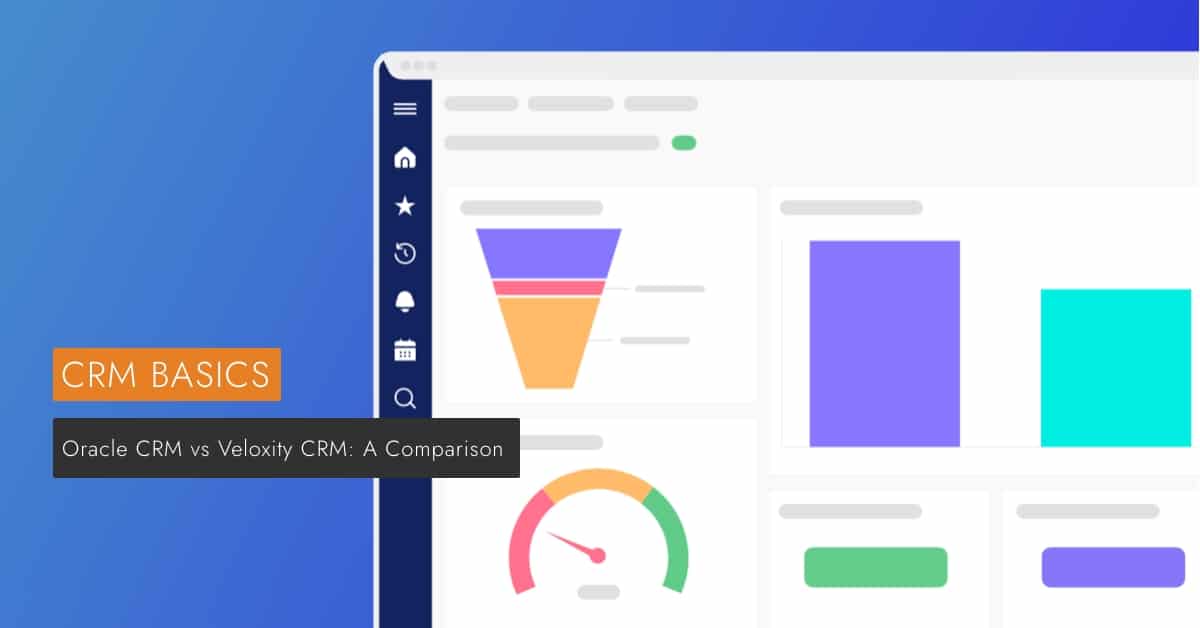 CRM software is a must-have for any organisation, but it can be challenging to find the right solution for your business.
Oracle is a CRM platform that has been used by organisations of all sizes, from small businesses to Fortune 500 companies, to process customer contacts and engage customers.
Veloxity is an expandable CRM platform with full marketing and lead automation, as well as intelligent sales tools to help you visualize and manage your pipeline. Veloxity comes with a wide range of features that allow organizations to plan and execute their marketing and sales strategies.
In this post, we'll compare Oracle CRM and Veloxity CRM to help you choose the best solution for your company.
We'll highlight the key features of each platform and show you which product is the most ideal for your business.
So, if you're looking for a CRM that can help you achieve your business goals, keep reading.
What Is Oracle CRM?
Oracle CRM is a cloud-based platform that enables users to connect with, interact with, and serve their customers. Developed by the worldwide leader in enterprise cloud software and hardware solutions, Oracle CRM is a flexible solution for many industries.
5 Features of Oracle CRM
#1: Customer Contacts and Engagement
Oracle CRM enables you to store and manage all customer contacts, including purchase history, contact details, demographics, and account information. Through Oracle CRM's social media integration capabilities, users can interact with customers on major social networking sites like LinkedIn and Facebook.
#2: Marketing and Lead Management
By organizing contacts and leads, users can take advantage of marketing features like lead scoring to determine which customers are most likely to respond to a sale offer. The platform also provides simple integration with Oracle Marketing Cloud (OMC), which offers best-in-class products for email marketing, social media marketing, advertising, web personalization, and web analytics.
#3: Intelligent Pipeline & Sales Tools
Oracle CRM provides intelligent sales tools such as forecasting and reporting to help you identify potential revenue opportunities within your pipeline. The platform also comes with an outbound dialer that can be used to connect with customers and prospects.
#4: Mobile Functionality
Oracle CRM is a fully customizable solution that can be accessed on your desktop, laptop, or smart device. The platform also includes an app builder for developing custom user interfaces for various devices.
#5: Training and Support Services
To help businesses get the most out of their CRM, Oracle offers a range of services such as training and certification for users and administrators.
What Is Veloxity CRM?
Like Oracle CRM, Veloxity CRM is cloud-based and helps you track and manage all your customer interactions, sales activities, and marketing campaigns.
5 Features of Veloxity CRM
#1: Contact Management
Veloxity provides a full suite of contact management features, including the ability to upload and store customer information in your CRM and create custom fields to track data specific to your business.
#2: Lead Management & Tracking
The platform's lead management tools include real-time updates on leads that allow you to increase your conversion rates by acting on new leads immediately.
#3: Sales Automation
Veloxity CRM comes with configurable workflows that can help you stay organized and its AI function can automate routine tasks like sending emails, assigning leads, tracking conversations, and closing deals.
#4: Marketing Campaign Tracking
With full marketing campaign integration, you can track the progress of your email marketing and social media campaigns in real time.
#5: Reporting Tools
Veloxity CRM comes with reporting tools that will help you measure your conversions, ROI and sales opportunities to make informed business decisions.
Quick Tips for Choosing the Right CRM for Your Business
What Are Your Business Goals?
Before choosing a CRM that can help you achieve your goals, it's important to identify those goals first. For example, if you want to improve customer communications and manage all your interactions in one place, choosing Veloxity may be right for you. Similarly, if you need a solution for managing sales leads and marketing campaigns, Veloxity CRM may be more appropriate.
How Complex Is Your Business?
Some businesses require simple contact management tools, while others need advanced sales and marketing features to boost their revenue. So, it's important to choose a CRM that provides all the features you need.
The Benefits You Get from the CRM
As you choose a CRM, look at how it can help your business achieve its goals and improve processes and tasks that you and your employees already perform daily.
For example, if you believe that Oracle can help your company streamline lead management and increase sales by 25 percent, it may be a good fit for you. On the other hand, if you're looking for a CRM with expandable features that can grow with your business, Veloxity may be the right choice.
Oracle vs. Veloxity: Which Is Right for Your Business?
With a range of customer relationship management (CRM) systems available, selecting the solution that best meets your business needs is crucial. What's unique about both Oracle CRM and Veloxity CRM is each platform delivers an affordable and flexible solution for businesses of all sizes. You only need to align your business needs and get the perfect fit.
Try a free demo of Veloxity today!