SalesForce vs. SAP vs. Oracle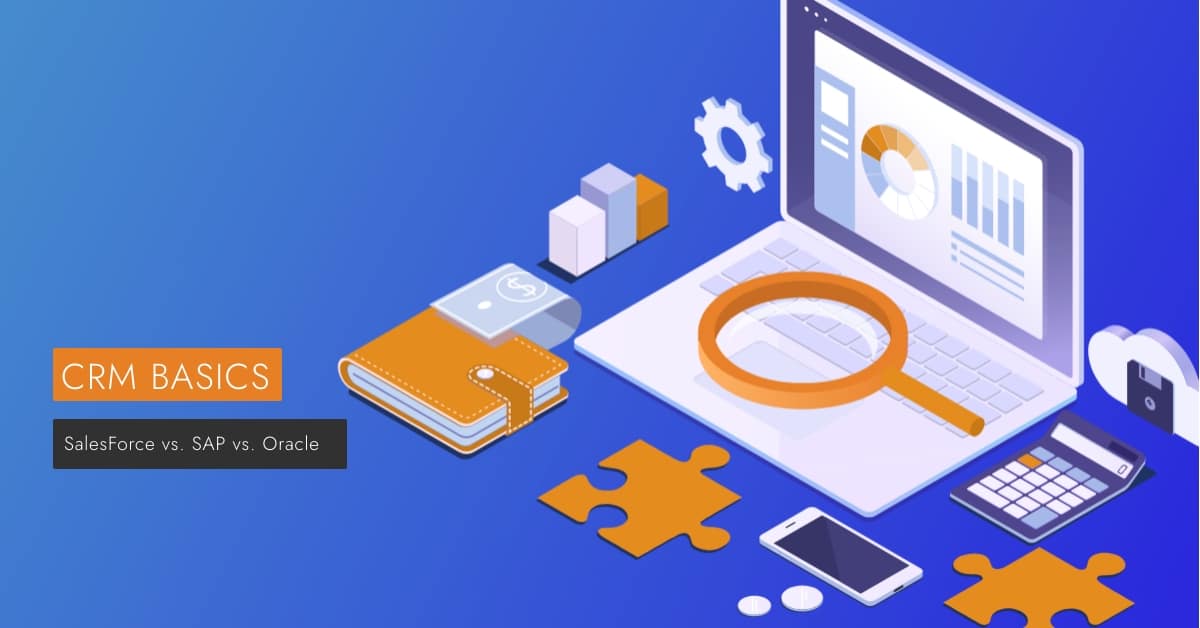 If you're looking to buy customer relationship management software for your company, you need to know you're making the right purchasing decision. If you're not sure what software to choose, you've come to the right place.
In this post, we'll compare some of the most popular business software providers on the market today: SalesForce, SAP, and Oracle.
We'll also explore the pros and cons of each company to help you choose the right one for your business.
SalesForce
Salesforce is a cloud-based CRM (customer relationship management) solution that offers business software, productivity tools, and mobile apps to help companies manage their customer relationships.
Pros
It enables you conveniently manage and support your business
It automates many business processes and tasks
It has more than 3,000 apps you can use and customize
Cons
Customization is time consuming
It can get expensive
SAP
SAP is a German multinational software corporation that makes enterprise software to help businesses manage their operations and customer relations.
Pros
It is flexible and customizable
It has as a strong focus on industry solutions
It goes beyond basic CRM software functions
Cons
Clients have to pay extra charges for technical support
It's not as straightforward as other software products
Oracle
Oracle is an American multinational computer technology corporation headquartered in Redwood Shores, California. It designs and sells both software and hardware products and offers services that help businesses run more effectively.
Pros
User friendly and flexible
Many third-party integrations
Competitive pricing
Cons
It can be challenging to implement for large companies
It only provides technical support for sales teams
How to Choose the Right One for Your Business
Choosing the right software depends on your business needs. Weighing all the pros and cons of Salesforce, SAP, and Oracle will help you make the best decision when choosing your business software. Make sure to do thorough research before making a final purchase. Here are eight factors to consider when choosing the idea software product:
#1: Your Business Needs
Different CRM solutions offer different features. Understanding your business needs will help you choose the best option for you. There are industry-specific CRMs that can address specific requirements. It's important to look for a solution that can accommodate the various aspects of your industry.
#2: Setting Your Priorities
As you compare Salesforce, SAP, and Oracle, it's important to understand what features your company needs the most. What are the most important tools that will benefit your sales process, customer service, or marketing efforts?
#3: Comparing Features
Once you're clear on the types of features your company needs in a CRM, it's time to compare software products. Start by looking at what solutions offer collaboration tools, automation, and analytics features. This will help you narrow down which CRM option will work best for you.
#4: Ease of Use
Once you get a general idea of the features you need, look at each product's interface. How easy is each solution to use? Is it user-friendly? Do you think that employees will need extensive training in order to adopt it, and if so, how much does training cost? The more intuitive the platform, the quicker your team can adopt the software.
#5: Customer Reviews
After you've compared the features that each solution offers, it's time to look at customer reviews. This will help you better understand what people really think about SalesForce, SAP, and Oracle. You can also check out social media sites to see what other users have to say about their experiences with different CRM software.
Read through the one-star and five-start reviews carefully, paying attention to common threads.
#6: Customer Service
Customer service isn't a given when it comes to CRM software. The quality and even the availability of customer service will vary. Make sure you look at what kind of support is offered, how readily available it is, the response time, and the channels used for communication. Some software companies only offer 24/7 support for top-tier CRM editions.
#7: Automation
Task automation is a popular and helpful feature that frees up a lot of time for your sales staff. If your company relies on automation to reduce your daily workload and assign leads, it's important to consider which software solution offers these tools. They aren't always available on the edition that best suits your budget.
#8: Pricing & Budget
Most CRMs offer various versions of their of software, but you don't automatically need all the tools and features the highest tier has to offer. Decide your budget for this kind of software and be aware that the more comprehensive the package, the more expensive it will be.
SalesForce vs. SAP vs. Oracle Final Thoughts
The best CRM will depend on your business needs, so be sure to take your time when choosing. Make sure the solution you choose has all the features you need and something that can grow with your company. Any CRM option needs to have a user-friendly interface so employees can pick up on it quickly. Consider all these factors when making your decision.