What Are Inside Sales?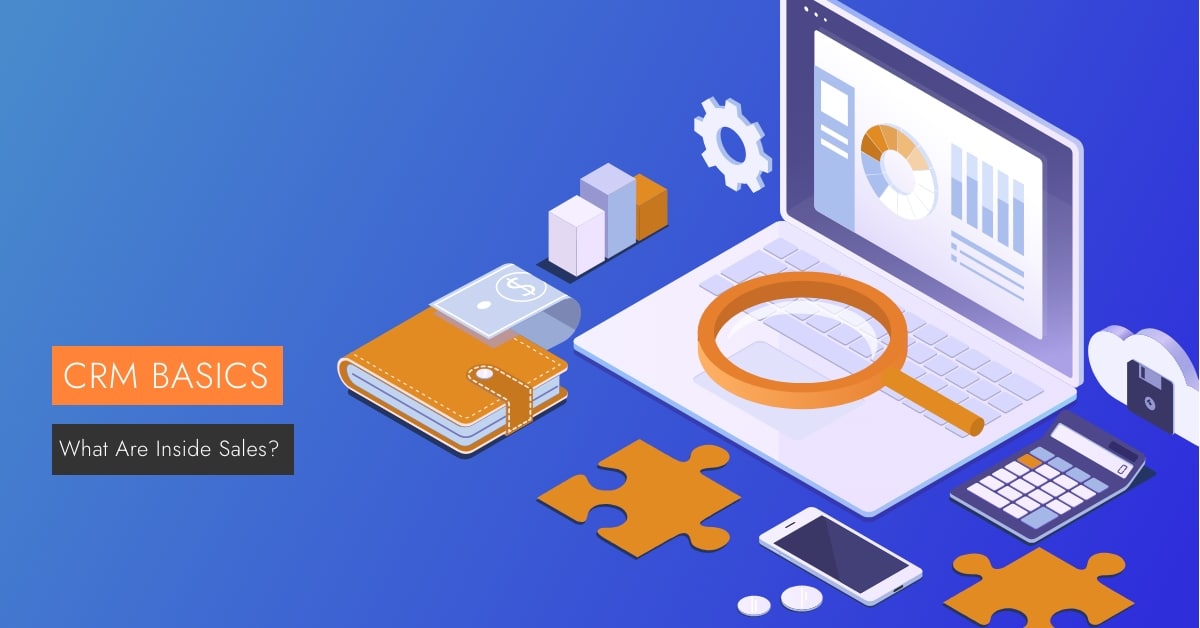 Running a business and making it thrive in the market is no picnic. But despite all the hurdles, you still need to drive revenue, boost customer loyalty, and uncover all sales opportunities to streamline and create a buzz around your business – you need to leverage every aspect of the ever-evolving technology.
With the morphing sales pipelines and technology, businesses selling high-ticket products are taking up a new sales model – inside sales.
But what are inside sales, and how can it help your sales reps sell more with ease? Let's dive deeper.
What Are Inside Sales?
Inside sales is a remote selling approach more popular among B2B companies, tech services, and SaaS businesses where sales reps reach their target audience via phone and other mediated and digital communication channels like email, social media platforms, etc., without getting involved in offsite meetings or any in-person interaction.
Key responsibilities of an inside sales rep are:
Replying to customer inquiries
Maintaining long-term relationships with potential clients to build credibility and rapport
Nurturing and following up with leads to improve conversion rates and trying to get high-quality sales referrals from customers
Hitting their daily/monthly quota targets (for instance, web meetings arranged, number of phone calls made, number of leads followed up with daily, proposals sent, etc.)
Negotiating and cracking more sales or passing them to field sales executives for additional nurturing and closure
Reporting on sales data
Inside sales representatives work following a more predictive schedule and leverage a set of tools like CRM, phone, social selling tools, email management software, etc., to meet their daily set targets.
Inside Sales Vs. Outside Sales
With more businesses running remotely amid pandemic, we have seen a surge in the use of the inside sales model. But what are the differences between inside and outside sales? Let's go through:
Outside sales is a selling model where sales reps organize offsite meetings to meet their present or to-be customers. Inside sales, as we have already stated, involves no face-to-face interactions between reps and customers.
While inside sales representatives nurture and follow up with a large group of prospects and leads daily, outside sales reps target to reach and meet only high-value prospects.
The inside sales model involves a one-time investment in technological infrastructure and a fixed cost as reps' salary. On the flip side, outside sales is a comparatively expensive selling approach.
The sales velocity in the inside sales model is shorter than the other one as inside sales reps can follow up with multiple leads simultaneously and push them through the sales stages to close deals faster.
Benefits of Inside Sales
37% of high-growth businesses use inside sales as their fundamental sales technique (vs. 27% for outside sales, 23% for internet sales, 8% for channel sales). But why is it becoming more popular?
Let's dive deeper:
Faster Response Time to Leads
Now more than ever, companies revolve around clients, making the customer experience (CX) a critical brand differentiator. On the flip side, customers today move fast, make fickle buying decisions and expect top-notch service in a short attention span. It means that quick responses before prospects turn into customers are another crucial catalyst to brand success – replying first to your potential buyers influences how many sales opps your reps can convert.
An inside sales team only focuses on acquiring new leads and retaining customers through remote interaction. So they can be more prompt in responding to customer inquiries than outside reps.
Customers Prefer the Inside Sales Model
What a study conducted by the Sales Benchmark Index would send a chill down your spine. It says 70% of its evaluated buyers are not interested in an in-person meeting; instead, they prefer doing business remotely. A census run by DiscoverOrg says that 78% of decision-makers polled have attended an event or finalized an appointment coming from a cold call or an email.
In short, the more remotely you can reach people, the better are your chances to win deals.
Spend More Time Selling
While outside sales reps spend only 22% of their weekly working hours in activities related to revenue generation, the percentage is 35% for inside sales reps – they don't need to travel and thus can devote that time to nurturing leads and driving them to deal closure.
Spending more time in activity selling helps your sales reps hit their quota goals and keeps revenue rolling in your business.
Improved Collaboration
Inside sales promotes cross-functional collaboration and team cohesion. Plus, sales managers can track sales activities, give constructive feedback and guide reps to channelize their sales efforts accurately – thanks to the physical contiguity between sales managers and representatives in the inside selling model.
As this sales model runs leveraging advanced software and tools, departments can break team silos and collaborate on deals to move them faster through the sales funnel.
How to Succeed in Inside Sales?
Keep the following things in mind to succeed and thrive as an inside sales rep:
Prospect Strategically
Meaningful time devoted to interacting with your would-be customers will always win out over the number of dials you make.
As an inside sales rep, you should put in a bit of legwork and make tactful approaches while talking to your prospects.
Though cold calls can work fine, today's high-growth businesses now prefer warmer calls as a more effective and efficient way of reaching sales leads interested in your business. Whether it is a nourished sales lead, referrals from the current client base, or even a convivial banter on social media, warm calls are always a goldmine for a business.
Investing time in stalking your prospects' social media accounts using avant-garde features, for instance, LinkedIn's advanced searches, can help you gather a bit of their personal information and tailor your interactions.
Plus, spend ample time studying your competitors and your own USPs to stay on top of your competition while reaching the prospects.
Pitch Perfectly
Today's busy customers don't have the whole day to talk to you over the phone. So for the person on the other side of the phone to really listen to you, your initial spiel has to supplant everything worth their time – you need to be perfect while pitching to pique their curiosity.
Let's look into some pro tips to nail your sales pitch and turn strangers into customers:
Handle prospects with utter care and love and ensure your pitch never sounds like a scripted sales call.
Talking continuously without letting prospects answer is a big fat no.
Don't try to sell on the first call.
Ask them for a secondary appointment while appreciating their busyness.
Keep it short, sweet, and concise. If possible, try to build rapport by figuring out a common topic, and don't forget to pick up on it the next time you interact.
Capitalize on Your Past and Current Customers
Your previous customer database can be a critical buying signal that can speed up your sales cycle. So, besides following up with your present and to-be buyers, you should also track your past clients who had been hired for another post or switched to a new job if you don't want any lead to slip through the cracks.
While the possibility of a new prospect to convert is only 5-20%, following up with past and present clients boosts sales opportunities by 60-70%.
Use CRM to Better Manage Your Prospects
Clinching sales deals needs you to reach opps at the right time with right product information. A CRM like Veloxity can be your partner in managing prospects efficiently so your inside sales professionals can be on what they are best at – selling.
Let's see how:
By consolidating all contact data in a centralized repository, a CRM ensures your sales team can get what they need at their fingertips. And with Veloxity's native mobile application, they can access a full-fledged CRM system even on the fly. Plus, a CRM enables them to categorize client data based on tagging and segmentation filtering.
No more endless navigation between tabs and drill down to optimize sales processes. With Veloxity CRM Quoting and Product Bundle Management, reps can create high-quality quotes and build out product catalogs with a few clicks only.
Most top-class CRMs integrate with third-party systems your teams use daily. For instance, Veloxity syncs with Google Calendar, Outlook, IMAP, and Gmail to enable reps to track interactions and schedule web meetings and webinars right from the CRM timeline.
CRMs enable real-time sales pipeline visualization and let you configure the sales stages. With Veloxity's Kanban view and out-of-the-box charts, you can locate your sales opps' positions in the sales process, see potential revenue at each stage, and drag and drop opps between stages.
CRMs streamline and automate your sales reps' day-to-day repetitious tasks. With few clicks and no/less coding, they can carry out tasks like lead scoring, phone or email logging, and more – thanks to Veloxity's robust sentence-based Rules Engine.
Having a quality CRM in place makes lead management as painless as possible. For instance, with Veloxity's powerful lead assignment rule builder, you can set your own rules and direct leads to the right reps.
How Can Inside and Outside Reps Collaborate?
The steps you can take to make your inside and outside reps collaborate include:
Make your inside reps acquire a large number of low-value prospects. This way, the outside reps have a greater chance to pursue larger agreements.
Make both teams share contact details to move deals faster in either way – via offsite meetings or remote communication
Both teams should track leads timely acquired by either reps.