What is a Cold Call?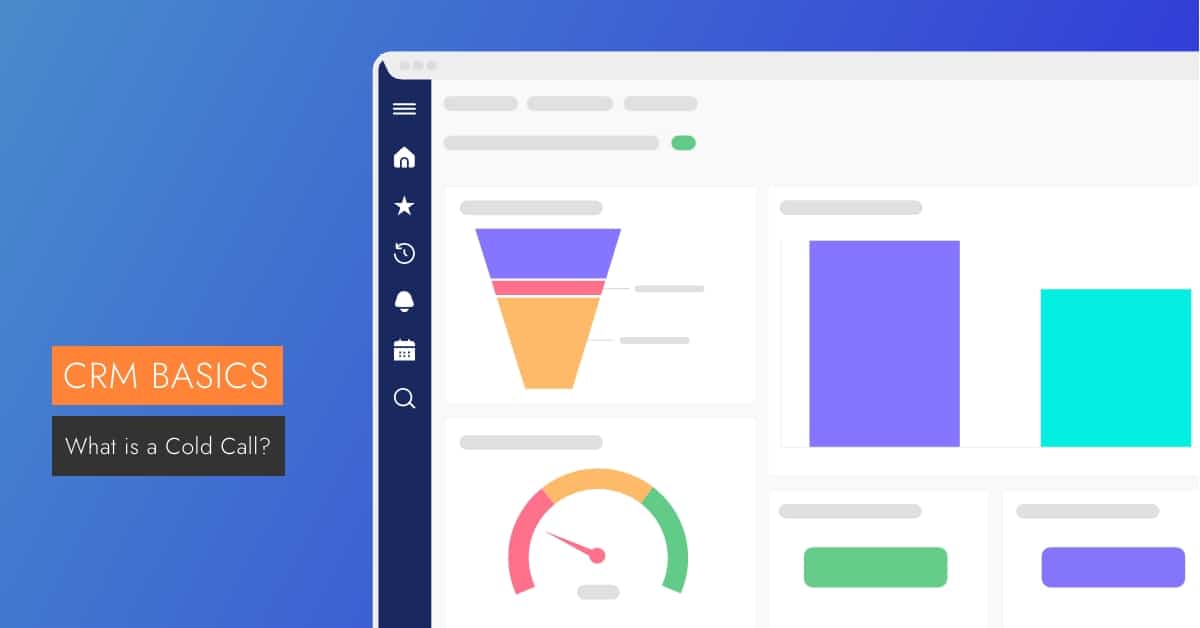 Sales reps of both small and high-growth companies searching for opportunities to drum up their businesses use cold calling as a ready-to-use tactic of reaching fresh sales leads. 
Though for any outbound sales professional, cold calling is usually the first and perhaps the sure-fire way of acquiring sales opportunities, this old-school sales strategy is on the downswing today. 
Why?
Simply because people don't enjoy being ambushed and receiving sales calls out of the blue.
Cold calling is not the most suitable method to reach prospects, but it still works and is a salient tactic of most sales teams' arsenal.
What is a cold call? Unpack everything essential in this precise guide.
What is a Cold Call?
Cold calling is a type of telemarketing where a sales rep directly calls potential clients who are not yet connected to your company or have expressed interest in your service. The ultimate target is to interact with a business or person fitting into your devised buyer persona for the first time, deliver a powerful spiel demonstrating your services concisely, and figure out how likely they are to move forward through the sales stages. 
Don't confuse cold calls with warm calls. Warm calling is when your sales reps initiate communication with to-be buyers who are already interested in doing business with you in any way – subscribing to your newsletters, submitting information, filling in web forms, downloading content, etc.
Is Cold Calling Effective?
The first thing to clear is that people don't like unsolicited connections, cold emails outreach, or cold calls.
A person may seem to be a right fit to negotiate a deal with, but most times, he will not be repetitive – hence the efficiency rate of cold calling is frequently put into doubt.
Plus, various mediated and digital communication channels like social media platforms, email, etc., enable brands to reach potential clients and nurture them simultaneously. The efficacy of such sales strategies in boosting sales and building brand credibility can, no doubt, overshadow cold calling.
Simultaneously, buyers are more empowered now more than ever – the prompt access to client feedback and service information, coupled with the intensifying business competition, makes it more challenging for sales teams to sway prospects even with a stunningly created cold call.
Further, most people consider cold calls a breach of their privacy. Even sales professionals sometimes consider it a scattergun pitching approach and hesitate to dial people all of a sudden.
While still in practice, cold calling doesn't have that high and expected win rate. Even a meticulous cold call can secure a success rate of around 2% (vs. 30% for warm calling).
But the doors are still open. Let's look into some data that can rock your sales world:
According to a survey conducted in summer 2018 by Selling Power, 46% of the evaluated 160 B2B sales reps still use phone calls to reach prospects.
Another study run by the Rain Group said that 57% of C-level and VP customers prefer receiving sales calls – perhaps a perfect way to fine-tune your value proposition.
To sum up, though meager, cold calling still has an efficiency rate, and while executed following a well-devised strategy, it can help reps generate more new leads and win more sales quicker.
Rules to Follow While Making Cold Calls
Though challenging to pull off, cold calling is absolutely allowed.
However, sales reps have to follow some stringent regulations:
While B2B cold calls are legal in the EU, the GDPR rules enforced in 2018 have outlawed B2C cold calling to European Union citizens. After Brexit, businesses operating in the UK must adhere to UK GDPR (identical to GDPR 2018). The companies registered in the USA must stick to the fundamental cold-calling legislation regulated by the SEC (US Securities and Exchange Commission).
No sales reps can cold call numbers registered to the Corporate Telephone Preference Service (CTPS) or Telephone Preference Service (TPS) in the EU and UK. The Do Not Call database is regulated by the Federal Trade Commission (FTC) in the USA – an independent government agency that aims to protect consumer rights.
No sales call is allowed out of the time frame – between 8 am-9 pm daily.
In the first 2-minutes of interaction, cold callers must inform potential about their personal details and company information to ensure the process is legitimate.
Cold Calling Tips to Win Big
Crush your cold calls with the following killer tips and strategies and improve your closing rate:
Know Your Targets
The effectiveness of reaching people who fit in your sales process will always win out over the number of dials you make. So before calling people, make sure you create a buyer persona and put in a bit of legwork in researching your products and market trends to identify your target customers.
Plan Call Times Wisely
As we have already stated, dialing prospects out of the allowed time frame is a big fat no, and a part of government-enforced regulation as well – the people you want to reach are the busy bees of a company who may feel like rolling their eyes and hang up the call if you cold call them during the 9-5 working hours.
If you want your cold calls to boost your sales success, try to avoid calling prospects on Friday – most times, they will be winding down after a hectic schedule, and Monday – they will be settling into a busy week.
The most suitable time of the week to cold call B2B clients are Wednesday and Thursday. Schedule the call and reach them when they are more open to making deals. 
Prepare a Cold Call Script and Follow It Like a Pro
Being outstanding in your introductory spiel helps you hit your target of winning deals most efficiently.
A strategic cold calling script enables sales reps to keep the call on the right trail while adding a human touch. However, don't forget to keep the script short, natural, and succinct.
Keeping Following Up
While following up on high-value prospects is a must, you cannot ignore those who are still unsure about purchasing your service.
Sending a hyper-targeted follow-up email or voice mail, including fleshed-out and tailored information on how your business can better resolve the issues discussed over the phone, will help you fix a secondary meeting.
Use the Right Tools
Having the right tools in your business's arsenal will help the salespeople be more productive and speed up the sales cycle with ease.
Different top-class sales tools, multichannel outreach tools, phone systems, pure cold calling software, and CRM can transform the way your sales reps work.
How Can a CRM Like Veloxity Help
As your CRM is always packed with targeted leads and contact data, your sales reps can, with a few clicks, 'break the communication ice' and initiate a strategic cold call. And with Veloxity's state-of-the-art CRM, you can create custom workflows and call prospects from within the CRM interface using its powerful integrated dialing system.
Plus, a CRM's lead management system enables sales teams to better track lead activities, pinpoint their pain points and preferences, and note them. So the next time you plan a cold call, you can frame it around the lead insights and ensure no potential sales leads fall through the cracks.
No more spending time on repetitive daily tasks – with a CRM's tasks management system, you can optimize your sales performance. And with Veloxity CRM's powerful sentence-based Rules Engine, you can automate tasks like lead scoring, routing, assigning works, and more just by filling in the blanks.
Moreover, you can visualize your sales pipeline, build a new one and even configure the sales stages. Keeping track of your sales activities and moving prospects through the pipeline has become effortless with Veloxity.
You can use a CRM as a call center that logs each call you have missed into the lead cards and notify you to reach the caller – no more keeping prospects you have reached earlier via cold calling waiting if they get back to you. 
Further, CRM's call record and playback feature can be a gold mine for businesses – they can gain valuable customer insights, tune up cold call scripts, and upskill reps using the recorded calls.