How to Develop a Winning Hospitality Marketing Strategy to Boost Your Bookings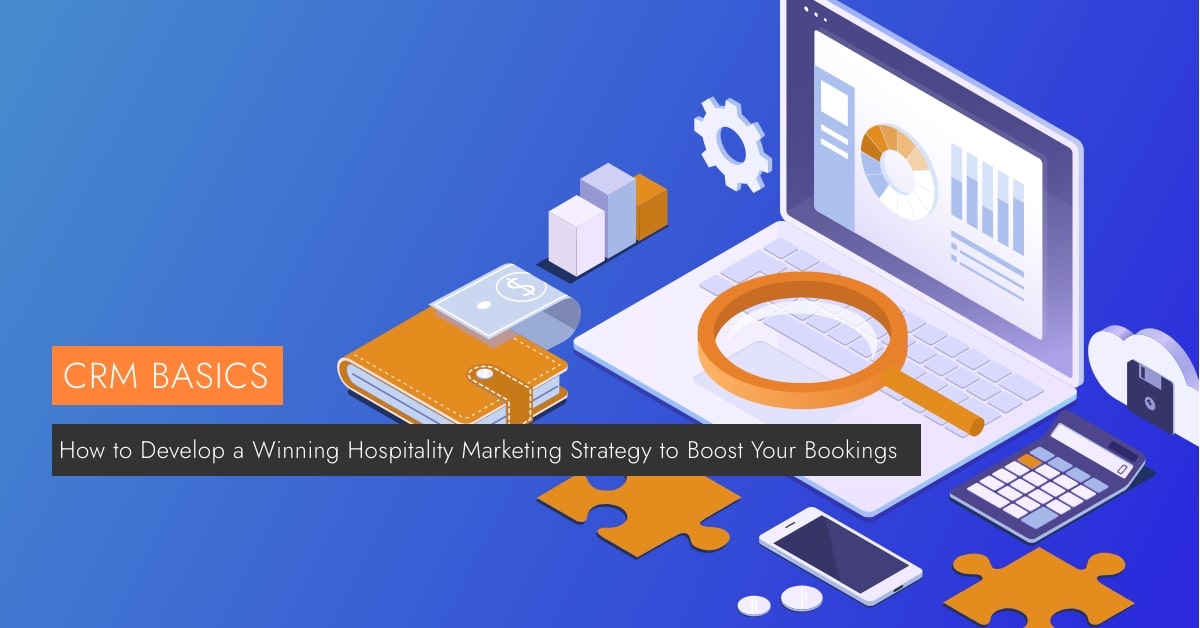 The hospitality business is well-known for its stiff competition and low profit margins, and never was it so true as it is today. With so many small-scale hotels going under in the initial years of launch, SMBs must hunt to gain a competitive edge and stand out from the pack by efficiently channelizing their marketing efforts.
Again, even if you are an expert player in managing luxury hotels having more wiggle room, you must strive to make every dollar spent on marketing count – devising a winning full-funnel hospitality marketing strategy is a must.
To help you set up the right strategy, we've put together the basics of a hospitality marketing plan and its most essential components.
What is Hospitality Marketing?
Hospitality marketing is the process of getting a hospitality business out to the target customers pinpointing their requirements. The purpose is to build a positive brand experience and promote services and commodities to sell more and drive better revenue.
What is Hospitality Marketing Strategy
A hospitality marketing strategy defines the marketing goals of a company to reach more prospects, turn them into repeat guests and win more deals by concentrating its fixed resources on the greatest opportunities. It is a set of thought-out business tactics that revolves around a business's value proposition and helps it gain sustainable competitive advantage.
However, the issues that most hoteliers frequently vocalize as leading causes of hospitality marketing plan failure are:
Unfavorable hotel location
Poor accounting
Poor administration
Non-existent/poor advertising/marketing
Benefits of Hospitality Marketing Strategies
Adapt to the Changing Landscape: Hospitality businesses must keep up with the constantly evolving marketing trends to stay ahead of the curve and thrive. Having a well-devised marketing strategy in effect means that hoteliers can efficiently audit and tune up their current promotional techniques based on competitor/market analysis and customer demands to bolster business efficacy. And the more optimized your marketing strategy is, the more sustainable your campaigns would be.
Outshine the Competitors: To keep revenue rolling in your hotel business, driving more direct engagement with guests, you need to outshine your competitors. Devising a hit strategy will help you throw light on your USP/unique selling points and let people know about your special services. Plus, you can publicize customers' happy feedback and case studies by capitalizing on online and offline marketing channels.
Tips for Powerful Hospitality Marketing Strategies
Here's your all-access-pass guide to developing a foolproof hotel marketing strategy to get your bookings up:
Target the Right Type of audience/Travelers
The prerequisite to devising a finely-tuned marketing strategy for your hospitality business (or any business, really) that sells is to identify the target audience and better understand their requirements and pain points. But how would you identify and build the right type of customer base or guest persona?
First off, you must understand whom you cater to – corporate warriors or couples, their expectations, factors influencing their buying decision, the channels they use to reach hoteliers, etc. So you can better analyze the guest persona, decide on whom you should target to market your service, and tweak your marketing strategies to create a pipeline of high-value prospects.
Invest in a Website
It is highly unlikely that you still don't have a digital side to your hotel/ marketing campaign. But, if you don't, you're missing out on an extensive selection of prospective clients that could push your occupancy through the roof!
The foremost step in 'going digital' is designing a spectacular website.
But don't emphasize making it look stunning only – it should load faster and be easy to navigate to ensure visitors enjoy a cohesive viewing experience.
Let's look at some foolproof tips for making your website fully functioning:
Make it mobile-friendly so visitors can have a unified view across all devices
Optimize it for SEO to boost your chances to rank higher in the search engines and improve conversion rates
Make brief content and use coherent, easily readable fonts
Ensure visitors don't have to zoom in/out, scroll down endlessly or pinch to see essential website details
Limit pop-ups and Flash
Integrate Google Maps to make your hotel easily locatable
Add web forms that get auto-filled to collect guest information
Enable 'click-to-call'
Enable 'Book Now' and 'Review Us' CTA buttons
Make the Most of Technology
Travelers won't just stop at your hotel and make their reservations with you; instead, they will look into several services online and decide.
So leverage the power of technology to showcase your property – give them a 360-degree view of the space, show them the spacious rooms, stunning infinity pools, and the facilities they can avail. After all, the visitors should be able to picture that savory dinner they can enjoy at your cafe or the incredible evenings they're about to relish in your space.
Try to add as much branded imagery as possible to your site. And if possible, add a video tour of the mesmerizing nearby sceneries, ancient monuments, and architecture.
With the undeniable rise of the 'contactless technology' today, empower your mobile app to boost guest services and handle almost everything – from room reservations to check-ins and ordering food to leaving reviews.
Also, you can use geo-based targeted advertising and proximity marketing to send location-based hyper-targeted messages to your potential guests straight on their phones.
Get Social Media Savvy
With almost everyone going online and using social media today, no marketing tactic can overshadow the importance of promoting your hotel business on social media platforms.
So beef up your hotel's social media accounts and rebound successfully in the upcoming travel season:
Keep your Instagram and Facebook page active by posting breathtaking photos of your hotel space and updates about your upcoming offers and discounts.
Link your website to your social media accounts – each component of your marketing plan will ultimately come back to your website.
Add links to your social media profiles in your emails and on your official site.
Keep the feed fresh with top-notch content, following the 80/20 rule – 80% about the incredible surroundings, 20% about your business and hotel.
Load the pages with relevant, suitable keywords and easily-searchable content
Collaborate with Travel Agencies to Maximize Exposure
Collaborating with travel agencies, influencers, and travel brokers is always a plus to keep visitors flowing into your website and maintain the optimal stream of guests in your hotel.
Before opting for cross-functional collaboration, ensure your listing is just perfect, and your brand message is pertinent and uniform across all marketing channels.
Use Email Marketing
Email marketing is the most infallible yet underrated marketing strategy that savvy hoteliers use to augment their direct bookings and guest list, gain more exposure, personalize the guest experience, and follow up on visitors after their stay.
Before launching email marketing campaigns, don't forget to optimize your contact list, target loyal customers, offer special discounts during the peak seasons, and incite them with hyper-personalized emails.
Leverage the Power of CRM
Building customer loyalty is essential in the hospitality business, more than anything. But unless you stop juggling between spreadsheets and isolated systems to manage your guests, you are doomed to failure. Thanks to CRMs like Veloxity that can help hoteliers retain guests and maintain lasting customer relationships delivering proactive customer service.
With Veloxity, organizing and synchronizing scattered client data from multiple channels and consolidating it into a central repository becomes effortless. Thus hotel reps can better track customer interactions, follow up with them through turnover and turn one-time guests into loyal, repeat clients with ease.
Moreover, rolling out laser-targeted marketing campaigns, scheduling mail-outs, and visualizing how efficiently your marketing efforts translate into business values have become easier than ever before – thanks to Veloxity's best-in-class marketing automation.
Plus, you can use Veloxity's ML-based analytics to get actionable insights into the massive volume of guest data your hospitality business churns out daily. Making data-driven decisions on redesigning or tweaking your hotel marketing strategy has never been this effortless.