Process of CRM Migration: Steps to Getting Started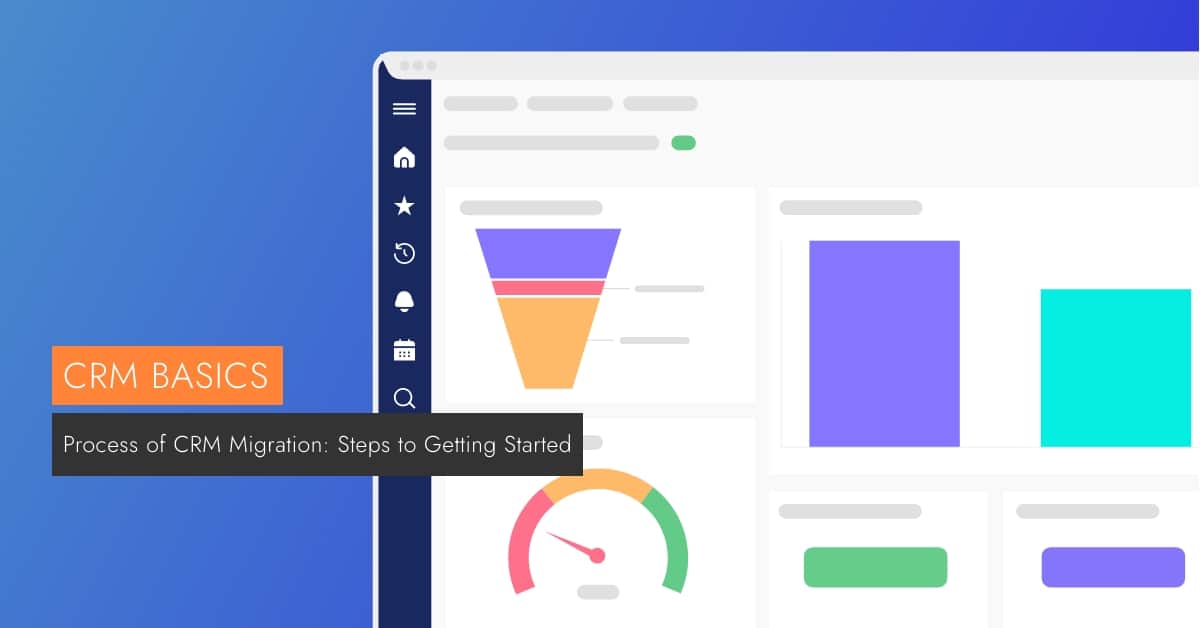 Gone are the days of juggling between spreadsheets and notebooks endlessly to maintain lasting customer relationships. Thanks to CRM software that has enabled businesses to follow up with leads, roll out hyper-targeted marketing campaigns, channelize sales efforts, and deliver proactive customer service with ease.
But for ongoing CRM success, you may sometimes need to migrate to a new CRM system from a legacy system without losing data integrity – only high-quality clean business data can bring value to your stakeholders and end customers.
No matter how well built or designed a CRM system you choose, unless the process of CRM migration is smooth and strategic, all your efforts may be doomed to failure, and the drawbacks may outweigh the benefits.
To know more about successful CRM (Customer Relationship management) migration, read on.
What is CRM Migration?
CRM migration is a step-by-step method of transporting data of real value to a quality CRM software from a legacy CRM program. So the already-using program stays as is and the essential data gets copied over to a new platform.
Data that you cannot afford to lose while executing the process of CRM migration include:
Customer data – contact details, client preferences, communication, and purchase history, and more
Marketing Process Data – social media outreach, CLV information, campaign success reports, brand awareness information, and more
Sales Cycle Data – Upsell/cross-sell rates, invoicing records, lead generation expenses, sales pipeline, etc.
Customer Service Data – Case management information, SLAs/Service Level Agreement, client testimonials, etc
While migrating, companies must factor in the many elements of data gravity and work around them – having a realistic and specialized CRM migration strategy put into effect is a must that can ensure the data is:
relevant and accurate
complete
easily accessible
authentic and dependable
unique and contains no duplication
valid and in the correct format supported by your new system
Why Migrate to a New CRM?
CRM migration is often put on a business's agenda when it transitions to a new development stage. The leading causes companies shift to a new system are:
Lack of flexibility and scalability with the previous application
Need of more CRM customizability and configurability
High CRM maintenance costs
Lack of cloud-based data storage
tough-to-navigate and intimidating user interface
Limited range of third-party software integration supported.
CRM Migration Best Practices
If the data transformation takes place between two identical platforms – which is a rare case – a third-party data migration tool can work just fine
Another way to transfer data from an already-installed program into a new CRM is to archive the essential data and upload it via the legacy software's UI. This approach may seem straightforward but is functional only if the data structure is identical for both applications and the newly-deployed program can parse the exported files.
The most viable and effective option is to develop a custom tool or script. The best thing is, you can even shift the third-party applications integrated with the legacy tool, besides data, into the new CRM via API calls.
The Process of CRM Migration
The steps that can make the process of CRM migration effortless are:
Consult with the Users
Before starting off the migration process, get all the stakeholders, decision-makers, sales, marketing, and customer support teams, and users on-board with the shift to new software for maximizing its use.
Collaborating with the staff members will enable you to evaluate the efficacy of the migration process based on various business perspectives, including:
The must-have features the target CRM tool should contain
Analyzing the company benefits in terms of cost-savings
Plus, as the most prominent users of CRM, they can be the most stringent testers of the newly-deployed system and figure out glitches, data duplication or missing, and more, most efficiently.
Search and Compare
Have you decided to level up your business implementing a top-notch CRM solution? Congratulations!
Now, it's time to pick a platform that can better suit your business specifications and requirements.
With the market booming with hundreds of products, choosing the right solution may seem overwhelming.
Combining the simplicity of a small business CRM with the best-in-class out-of-the-box functionalities of an enterprise-grade platform, Veloxity has become a state-of-the-art CRM software that comes at half the cost of other solutions. Bringing all top-of-funnel sales and marketing on a single pane of glass, this low-/no-code custom CRM is best known for its realm of training resources that make the adoption, migration, and deployment process as painless as possible.
Once you have selected the CRM to migrate to, compare it with your existing system based on the use cases, files types to be transferred, and new functionalities your teams need.
Prepare and Analyze
Now the most intimidating step – data cleansing, begins. Before carrying out CRM migration, data clean-up is vital to ensure you only transfer high-quality, accurate data that can bring value to your business in the long run. Scan your existing CRM data for outdated/duplicate information, include missing data entries, and ensure no information has been shoehorned into the incorrect fields.
Once the data clean-up is complete, count on data mapping to decide where the migrated data would reside in the target CRM.
Data Backup – A Must
Don't forget to create a backup of all your data from legacy systems – anything can happen during CRM migration, and losing your mission-critical business information and contact details are the last thing you can afford.
CRM Customization
A quality CRM with out-of-the-box features is just fine for a small business. But as your business expands, CRM customization becomes crucial for helping your business run optimally. Before carrying out the migration, evaluate what customization facilities you need in the target CRM, for instance, dashboard view configuration, user permission, non-standard fields adding, excluding unnecessary fields, etc.
Veloxity is a best-in-its-class custom CRM enabler that comes with unlimited customization options. From adding unlimited new data objects, and fields to that data objects and configuring dashboard and data views to creating unlimited rules with Veloxity's powerful Rule Engine – everything has become a matter of a few clicks only. Plus, Veloxity supports REST API to enable users to carry out any data operations essential to support their custom CRM application requirements.
Run a Couple of Tests
Don't risk your data and make the process a real catastrophe trying to migrate everything in a single shot; instead, run a couple of tests by transferring some sample data sets to the new system to evaluate how smoothly and accurately the process goes on. It's vital to integrate multiple intricate applications into your target CRM especially if you have a hierarchy-based multilevel database connected to numerous objects.
All Set to Migrate!
And finally, it's time to click the 'Migrate' button and wait for the 'Success' box to appear! Hiring a team of expert developers is always a plus to make the process an absolute success and resolve any glitches that may occur during the CRM migration.
Migrating to Veloxity from any other system is as effortless as it can be:
All you have to do is to go to My Profile > App Setup > CRM Setup > Import Other CRM Data from the Main Menu
You can execute the migration using any compatible CRM data migration tools and transport your CRM data to Veloxity in no time – all you require is your login ID and API key.