Best Free CRM: The Ultimate Guide to Choosing the Best Free CRM Software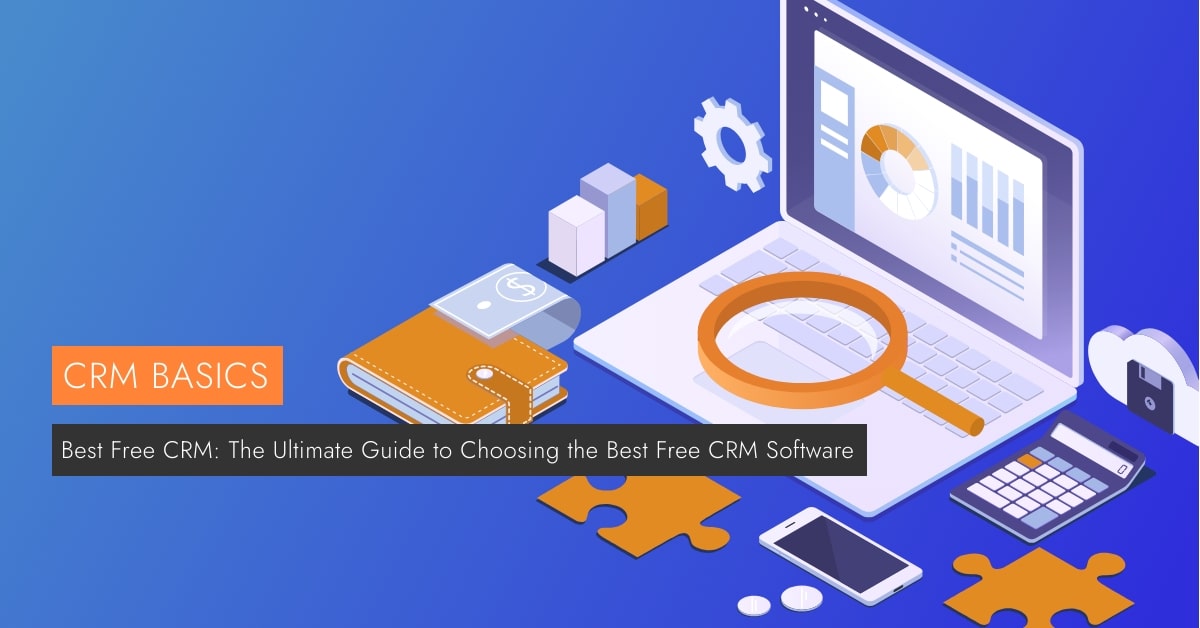 Are you still relying on Google Sheet, Excel, or notebooks to keep track of your leads, sales, or even projects? If yes, then such endless juggling between tabs and spreadsheets will only hold back your business productivity – opportunities will be missed, leads will drop at a high rate, and the market will suffer greatly.
Unless you arm your teams with a time-saving dedicated program like a CRM, managing your valuable clients at scale will become challenging for them.
The great news is – now you can leverage the power of Artificial Intelligence and Machine Learning with the best free CRM system to effectively follow up with your clients and maintain lasting customer relationships. To learn more about free CRM systems, read on.
What is a CRM Software?
A CRM is a dedicated business application that combines a set of techniques and tools to enable enterprises to get actionable insights into a massive volume of customer data employing data analytics. Thus businesses can better track all customer touchpoints throughout the sales funnel stages, and deliver proactive customer service. Having quality CRM software is crucial to generating, acquiring, and retaining clients and bolstering business efficacy.
A CRM can:
Offer a 360-degree view of stakeholders and clients
Help administer deals and tasks
Automate repetitive jobs
Enable cross-departmental collaboration, and the list goes on.
What is a Free CRM: Difference between Open Source and Free Open Source CRM
Though the terms 'Free CRM' and 'Open Source CRM' are often used interchangeably, they are not identical.
A free CRM is a particular CRM program that you can implement and utilize at zero payment.
An open-source CRM is a business tool that you can install and use for free; plus, the source code is also available for further modification/use/compilation, incurring no charge.
CRM Benefits
The global CRM market size was valued at $52.64 billion in 2020 and is forecast to reach $128.97 billion dollars in 2028 from $58.04 billion in 2021, growing at a CAGR of a staggering 12.1% during 2021-2028.
But why are businesses switching to CRM systems at a fast pace? Let's dive deep into the benefits:
Enhanced Customer Service
No matter how strategically you devise your services or offers, unless you can ensure top-notch customer service, the bitter truth is, your business is doomed to failure. Thanks to industry-leading CRMs that can help your teammates efficiently interact and follow up with the clients, offering a 360-degree view – accurate data about customer demographics, purchase history, preferences, etc., are now at your reps' fingertips.
Plus, having a quality CRM in effect, your service team can have aggregated conversations with stakeholders from multiple channels your business exists. Having more detailed and accurate client information on a single screen means tailoring hyper-personalized offers to meet customer preferences becomes effortless.
Drive Better Profitability with Upsells and Cross-sells
A quality CRM like Veloxity can help you identify the products your customers usually purchase together by throwing up precise sales analytics. For instance, a client purchasing your email campaign services may also opt for one of your email analytics packages.
Thanks to CRMs that let you program the system to filter and analyze data, and customer feedback, and pitch related upgrades or features so you can identify the upsell/cross-sell opportunities with ease. Consequently, you can sell more, boost customer retention rates, drive better revenues and improve client satisfaction – all that a business requires to thrive.
Enable Cross-departmental Collaboration
The leading cause most lead capture efforts fail is miscommunication between different business departments. Departments operating in silos are unable to communicate in real-time, resulting in massive customer defection.
CRM tools allow all teams across a company to access the centralized multi-faceted customer database and share and edit files in real-time by enabling cross-departmental collaboration – the latest version of customer interaction copies are always at their fingertips.
What Makes the Best Free CRM Software
The top-notch free CRMs never reinvent the wheel; instead, they try to make it roll a little smoother, so teams of startups and small businesses with tight budgets and resources can win more deals and remove frictions from their sales process with less time and effort at zero cost.
The functionalities that make a quality free CRM software package include:
Contact, Account, and Opportunity Management: A free CRM must document and retrieve client information, including contact details, names, addresses, social media interactions, etc., efficiently.
Sales Management: Even a free CRM should support out-of-the-box configurable charts and Kanban to allow sales reps to visualize the sales pipeline and better track sales and opps across the sales stages.
Dashboard-based Reporting: Enables users to visualize key business matrices using fully-customizable reports, analytics, and charts and present the aggregated data in its intuitive, configurable dashboard.
Workflow Automation: A free yet quality CRM provides a horde of automation functionalities to streamline workflows. It enables users to define rules and automate most of their daily repetitive tasks – automated messaging, sending thank you emails, assigning duties to reps, etc.
How to Choose the Best Free CRM Software
CRM solutions are an absolute necessity to keep up with today's intensifying business competition, especially when the budget of a B2B company cannot accommodate a whole host of premium software simultaneously – leveraging the power of a quality free CRM is the ultimate solution.
Keep the following things into consideration while evaluating a free CRM:
Allowed Users, Contacts, and Accounts: The number of accounts, opps contacts, and maximum storage supported by your free account usually determine how much value it can bring to your stakeholders and company. While having unlimited storage and users/opps with a free account are always the golden standard, you cannot expect all of these three parameters unrestricted on a free program. Compare multiple free plans and pick the most suitable one that allows a maximum number of accounts and opps with a free account.
Easy to Use: Go with a CRM that features an intuitive interface, a minimal learning curve, and is effortless to navigate and input data. So your teammates can get with the new system effortlessly.
Breakdown of Pricing Tiers: Understanding the pricing tiers of the free program you implement is always a plus. So when your company booms, you can, without breaking your bank, upgrade your productivity with one of its paid editions. And the best part is, you won't require to switch to an entirely new platform.
How Does Veloxity CRM Win the Race?
If you are searching for a world-class CRM with a feature-packed free-forever version, Veloxity can be your ultimate pick. That's correct – powerful functionalities for marketing, support service and sales teams, highly-encrypted cloud storage, and robust integrations – all at zero cost.
Let's look into some of Veloxity best-in-class features:
With Veloxity's free edition, you can add up to 300 accounts, 500 contacts, and 300 opps – it's no doubt a great deal.
Users can design and configure sales stages with guided sales besides customizing the homepage – customize the system to make it all yours.
Supports scheduling, rescheduling, and activity tracking with easy drag and drop Calendar View
With Veloxity's first-in-class comprehensive and intelligent searching capabilities, locating data across the system becomes effortless.
Account, contact, opportunity tracking, easy user and quote management, integrated chat, live news feed, seamless integration with Outlook and Gmail, and powerful email template builder – all make a fully functional free CRM edition with no hidden charges
Access your free CRM account and work with ease even on the fly with Veloxity's native mobile app – the power of a fully-fledged CRM is now in your pocket.