What Is the Best CRM for Consultants?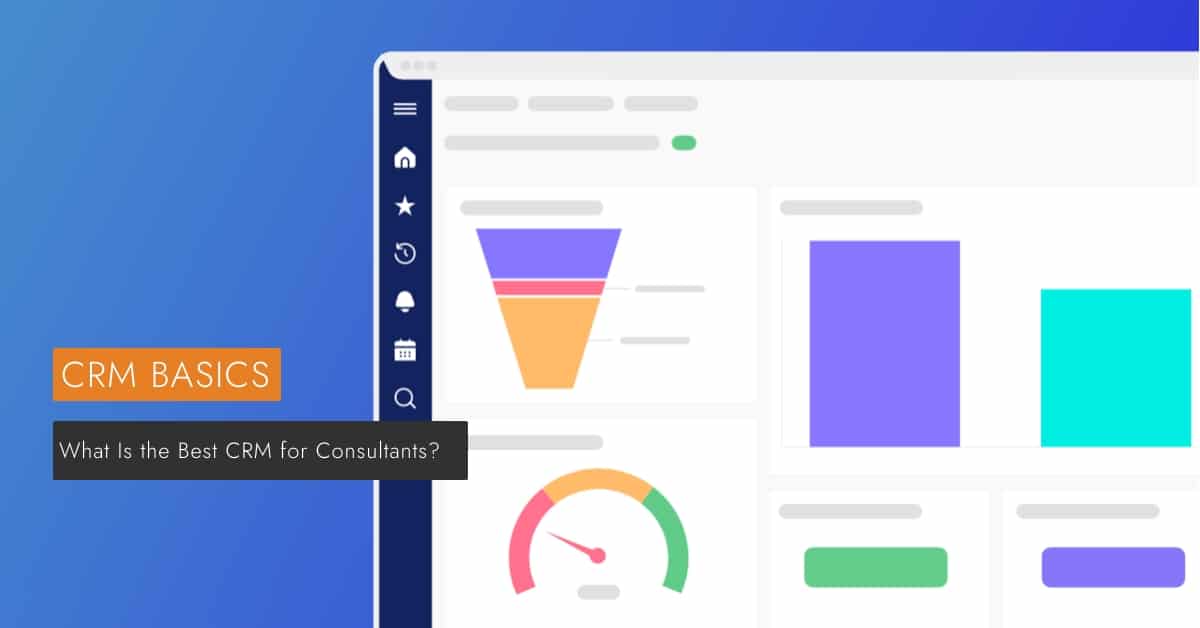 Consulting is a rewarding but challenging profession. It takes knowledge, experience, and problem-solving skills to beat out the competition and help your clients.
But when your client list starts to get a little long, you might be wondering what's the best way to keep track of your customer communication and work pipeline. That's why so many consultants use a CRM.
But what is the best CRM for consultants?
In this post, we're going to explore the most popular CRM for consulting firms products and give you a breakdown of the various tools and features that will benefit your consulting business.
If you want to find out which CRM is the most ideal for your consultancy work, keep reading.
What is CRM for Consultants?
A CRM specially designed for consultants specializes in managing and tracking a business's interactions with its present and would-be customers besides excelling in identifying and qualifying leads to help win more sales deals.
Using a CRM is inevitable for the departments like sales, servicing, and marketing, of a rapidly growing consulting firm that needs to interact with the prospects and customers directly.
With a quality consulting CRM in place, your teams can effortlessly streamline communication and respond to customer inquiries promptly, bolstering productivity.
Why Do Consultants Need CRM?
As a consulting business, you have to juggle between multiple leads and customers concurrently. And to stay on top of the competition, you need to follow up with them consistently based on the complexity of your sales cycle – you need to maintain a lasting customer relationship by communicating with your clients interactively. But manually keeping up with lead flow may seem challenging – you need automation.
When the number of your customers goes wider, a CRM can help by:
Enabling you to score and prioritize leads to improve your strategy
Allowing you to reach out to your present customers – thanks to CRM auto-responder scheduling and marketing automation
Consolidating and analyzing the customer data so you can get everything on your fingertip.
Best Features of a CRM for Consultants
The must-have features that make a quality CRM package for consultants are:
Contact Management: Helps you manage and update customer data (name, address, contact info, etc.) by gathering everything in holistic profiles unique for each customer.
Lead Management: Captures leads from channels, and tracks, qualifies, and auto-assigns them to the right reps.
Interaction Management: Tracks and records written (email, SMS, etc.) as well as over-phone interactions automatically.
Marketing Automation: Helps you track contacts across various channels, monitor their activities, curate and send hyper-triggered promotional emails using email templates, etc.
Pipeline Management: Helps you score your inbound leads, manage opps, and visualize your sales funnel.
Reportings: provides detailed visualization of team productivity, sales and marketing performance, and key business matrices with configurable reports and charts.
Best CRM for Consultants
Let's dive deep into our carefully picked CRM systems and their key features.
Do you need a quality CRM for efficiently tracking the flood of lead rolling in your funnel, improving your sales process, support service, and company efficacy? Be it for a newly launched consulting firm or a large company where thousands of prospects flow into the system daily, Veloxity can be your ultimate choice.
Getting a 360-degree view of customers and building and tracking your leads' profiles even on the fly to accelerate your sales has never been this effortless. It is an all-in-one system with robust product management, forecast automation, customizable charts, and ML-based analytics backed by unparalleled data protection.
Features of Veloxity CRM
The unprecedented features and functionalities that Veloxity CRM offers for consulting firms:
Veloxity automates lead creation and features a powerful and automated lead assignment rule builder to let you define rules and assign leads to Sales Division with zero/less technical knowledge.
It comes with intuitive built-in campaign dashboards to let users analyze campaign performance in real-time with few clicks.
It supports built-in email templates coming with Veloxity Email Builder. So you can create email campaigns in minutes and personalize messages by merging contact attributes.
It supports sync with Gmail and Outlook, and Google calendar and has integrated webinars and phone calls. It means, with better insights and fewer clicks, your sales reps can be super-productive in tracking leads as they move forward.
Hubspot CRM – Best for Small Consulting Business
If you are a small consulting business that needs a free yet robust CRM system with best-in-class features to help you manage sales goals and leads super-efficiently, Hubspot can be your pick.
Though it can only integrate with a few third-party marketing software, the unlimited data storage facility, easy deal stage customization with drag/drop and top-notch marketing system make it unparalleled in the market.
Features of HubSpot CRM
The key features of HubSpot CRM are:
HubSpot integrates with Outlook and Gmail to sync emails with your CRM contacts.
HubSpot CRM auto-logs emails sent and over-phone communications made from the software and puts them together on a contact record page in an interactive timeline view.
Unprecedented easy-to-navigate interface to level up your business efficiency
Supports configurable deals dashboard to let you visualize your entire sales pipeline.
Capsule CRM – Best for Independent Consultants
Capsule CRM is an affordable, simple yet powerful CRM system that SMBs and individual consultants can get started with immediately and power up their businesses.
Though you can include only 250 contacts while using Capsule's free plan, its easy-to-use intuitive interface and on-the-go mobile access functionality make it worth trying.
Features of Capsule CRM
Capsule CRM features:
It supports lead scoring and segmentation filtering to help you prioritize your sales and marketing efforts.
Integrates with a spectrum of third-party solutions, including Mailchimp, Xero, and Freshbook
It enables prompt contact sharing and comes with sophisticated reporting, robust data security and backup.
Capsule CRM supports reports filtering based on teams, users, and time so you can always have a clear view.
Salesforce CRM – Best for Enterprise-grade Consulting Firms
Salesforce is a sophisticated and robust CRM that can help your consulting firm grow even faster.
Though it mainly focuses on helping you manage your sales activities better, you can bring the best out of your sales team and bolster ROI, acquiring and retaining more customers.
Things to keep in mind before investing in Salesforce CRM are, the UI may seem a bit complex, and it may cost you higher than other competitors – starting from $25, the price can be as high as $300.
Features:
Salesforce features a customizable dashboard.
It comes with a native mobile app – the power of a quality CRM platform is in your pocket now! And with MySalesforce, you can customize your app experience so it can match your brand specifications better.
Seamlessly integrates with a wide range of third-party software, including QuickBooks, Mailchimp, Dropbox, Google Cloud, etc.
Supports in-line editing aptitudes, custom KPIs and more to let you augment forecast and pipeline accuracy.
Try out Veloxity for free today and take your consulting business to new heights – whether you are an individual or a consulting organization of any size.