Design a Winning Sales Quote: 5 Steps to Help You Stand Out from the Crowd
Introduction
Do you ever wonder how many sales quotes are generated each day? Of those quotes, what percentage make it to close?
While close rates vary by industry, we can extrapolate from the data that an average of around 19% of sales quotes lead to winning deals.
Are you thinking about upgrading your quoting process? Maybe you're just getting started and need to create a quoting solution for your business.
After reading this article, you'll have the tools you need to create a sales quote that stands out from the competition. You will learn how to implement five steps that upgrade your quoting process:
Step One: Develop the relationship
Step Two: Configure, Price, Quote (CPQ)
Step Three: Create the sales quote
Step Four: Follow up after quoting
Step Five: Measure performance
Step One: Develop the Relationship
"Only 13% of customers believe a salesperson can understand their needs," Josiane Feigon, Smart Sales Manager.
To design a winning sales quote, you need to understand the complexity of the situation you are quoting. Achieve this by developing a genuine relationship with your prospects and listening to what they say.
You need to listen, diagnose, and prescribe. Get to know your customers, and then meet their needs.
Many sales reps quote too soon. Take the time to listen, ask questions, and understand the complexity of the situation you are diagnosing. Your quote needs to prescribe the solution that meets the prospect's unique needs.
You can lose sales by quoting before fully understanding the situation. Quotes that don't solve the prospect's problem can be seen as inadequate. An overpriced quote can undermine your credibility. Similarly, a quote that's too low can create the impression you're a cheap supplier.
All of these things reduce your chances of winning the deal.
"Sales is all about creating a meaningful relationship that can be the foundation of a lasting business relationship," Raf VonSosen, Head of Marketing, LinkedIn Sales Solutions.
Consider your own experiences. Don't you prefer working with a company that consistently answers the phone, offers great solutions to your problems, and meets their deadlines, all while being personable? Focus on providing high-quality, personalized service and meet your deadlines, and you're already standing out from the crowd.
Step Two: Configure, Price, Quote
When you're ready to create the quote, the first step in the Quote-to-Cash process (QTC) is Configure, Price, Quote (CPQ).
The CPQ process consists of three main steps:
First, configure your sales quote. You'll need to identify and create the best combination of products for your prospect.
Then, add your pricing strategy. The pricing strategy determines the cost of products and any incentives such as discounts, promotions, and bundles.
Finally, draft the sales quote. A quote is a professional business document enabling the prospect to see the desired products' costs.
CPQ is a critical step in the quoting process. Learn more about optimizing the CPQ process.
Step Three: Create the Sales Quote
The sales quote is often the first personalized business document your prospect receives.
Having a sales quote ready to go can reduce errors, save time, and standardize your process.
While the sales quote's purpose is to enable the prospect to review your solution before deciding to buy, other factors besides products and price can impact your quote. Accuracy, timeliness, and ease of understanding are also important.
When creating your quote, use the following six tips as a guide:
Keep the Quote Streamlined
Personalize the Introduction
Include Contact Information
Keep Sale Details Transparent
Double-check Accuracy
Deliver on Time

Keep the Quote Streamlined
Make the quote easy to understand. Don't include unnecessary information. Keeping the format structured and scannable increases readability.
Keep the format clear and concise
Include only relevant data
Make the quote scannable
Personalize the Introduction
Stand out from your competition with a personalized introduction. Take a few minutes to connect to the relationship you have developed with the prospect. Offer context for the quote. Add any items to be discussed as notes.
Reflect a genuine relationship by including the name of the client and acknowledging specific requests and reason for the quote
Include brief notes on things not previously discussed
Include Contact Information
Your contact information needs to be easily accessible. The prospect should immediately be able to identify who sent the quote and how they can reach you. You'll also want to include your business information, including company name, address, and logo. Generally, this looks like business letterhead with your individualized signature information.
Contact information including full name, business email, and phone
Business information, including company name, company address, logo
Keep Sale Details Transparent
The prospect is reading your quote to understand the details of the sale. Make sure you list all products clearly along with any pricing and discounts. Be transparent. Make this easy to understand.
List all items to be purchased
List the price of each item
List the quantity of each item to be purchased
The entire price of the transaction
Date of the validity expiration of the quote
Double-check Accuracy
Double-check the accuracy of the quote. You don't want to make product or pricing mistakes that undermine your credibility.
Make sure the sales quote is accurate
Deliver On Time
Don't be late. Be sure the prospect has the quote in their hands on or before the date they are expecting. Timeliness conveys professionalism and competence and builds credibility.
Deliver the quote on or before your prospect expects the quote
Send the quote in the form that is easiest for your prospect to receive
Use the following sample sales quote to help you visualize the outcome of putting all these steps together when creating a sales quote: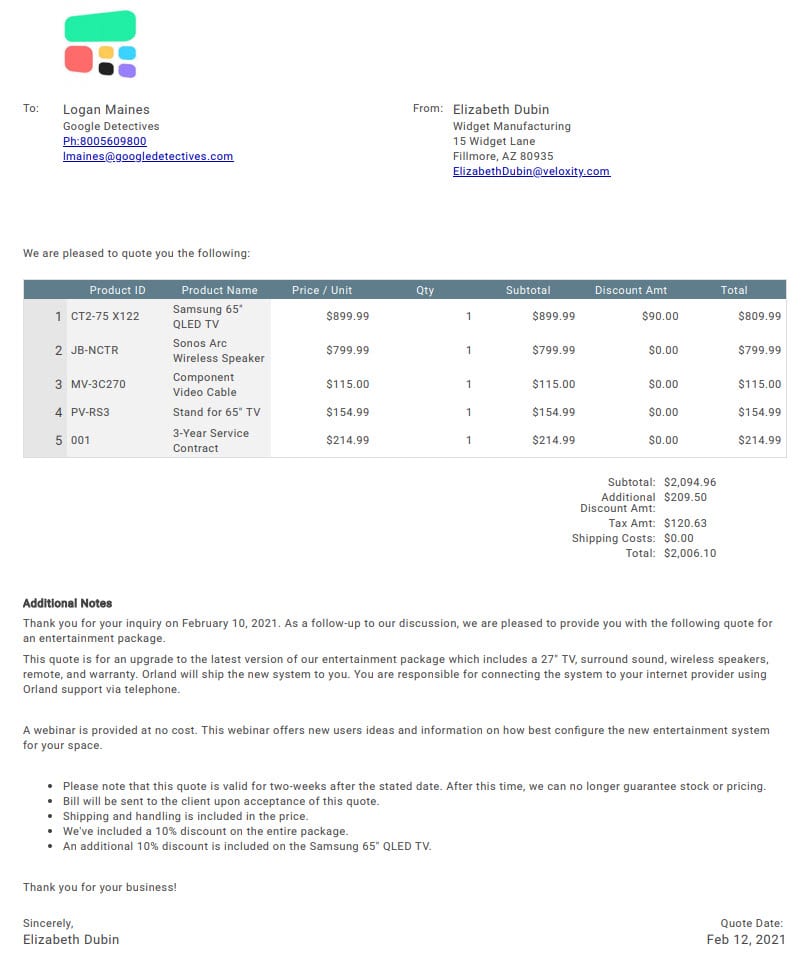 Step Four: Follow Up
Just because you've got a foot in the door doesn't mean you've closed the sale. After sending the quote, you'll need to follow up.
Wait Time
How long to wait before following up? Timing depends on the details of the sale. Generally, consider waiting 3-5 days after sending your quote. Give them time to think about it. Remember, there may be multiple decision-makers who need to review the numbers, and your prospect is likely very busy.
Be Brief
Keep the follow-up brief. Reference your sales quote and let them know you're checking in to see if they received your quote. Ask if they have any questions. Keeping the email short and focused on their needs increases the chance of a reply.
Tuesday, Wednesday, Thursday (in that order) are the best days of the week to send an email. People tend to check their email first thing in the morning, so deliver it early. Also, pay attention to your subject line. Research suggests that almost 70% of recipients send an email message to spam based on the subject line alone.
Why are you following up?
What are you trying to achieve by following up? Are you hoping they are ready to move to purchase? Do you want to schedule a demo to show them the solution in more detail? Are you looking for the opportunity to provide more information? The objective of the follow-up email can change depending on the situation. Think about what you want as a result of the email and use this to structure the message.
The objective of your email becomes the call-to-action (CTA). The CTA is usually placed at the end of the email and offers the prospect one clear and simple action to take in response to your email. For example, if the objective of your follow-up is to persuade your prospect with a demo, then you might use a CTA such as, "Are you available [date, time] for a 15-minute demo?" The prospect is called to act on the demo. They can respond to the email with a yes or by offering an alternative time.
Remain Respectfully Persistent
Remain persistent but don't hassle your prospect. Value the relationship. 57% of people surveyed said they would be encouraged to purchase from a salesperson who doesn't try to apply pressure or hassle them when following up.
Step Five: Measure Success
To measure the success of your new sales quoting process, consider tracking your quote to close ratio. This important KPI is useful in forecasting revenue and salesforce effectiveness. Try using this data to benchmark performance when upgrading your sales quoting process. Read more about Salesforce® CRM Competitors.
A quote to close ratio measures the number of deals won to the number of sales quotes sent by your team.
Calculate this figure in the following way:
First, count the number of sales quotes over a selected forecast period
Second, count the number of successfully closed sales over the same forecast period
Then, divide the number of sales by the number of quotes
Finally, multiply by 100 to get a closing ratio as a percentage
For example, generating five sales from 10 quotes means your quote to close ratio is 50%. You can expect to close 50% of your quotes.
Use the quote to close ratio as a benchmark to track progress over time.
Automate Your Quoting Process
When you are ready to upgrade your quoting process, consider using a sales CRM like Veloxity. Veloxity CRM offers the tools and templates you need to automate and streamline your sales quoting process.
Develop the relationship: Veloxity CRM supports you in developing customer relationships with features that allow your team to see the full picture and build lasting relationships.
Configure, Price, Quote (CPQ): Veloxity CRM's product management features help you configure, price, and quote quickly and accurately.
Create the sales quote: Use Veloxity's Quote Maker to create professionally formatted sales quotes in minutes.
Follow up after quoting: The Veloxity Hub's Recent Actions feature enables you to see your last communication with your contact. Know at-a-glance when it's time to follow up. Quick Activity helps you to easily follow up after quoting. Click the email icon and an email form pops up formatted with your contact's email address. Speed up the process by selecting an email template. The follow-up details are tracked so you don't forget when the prospect was last contacted and what was communicated.
Measure performance: Use Veloxity's analytics to measure performance. Set up your quote to close ratio on your sales dashboard and let Veloxity handle the calculations. Know immediately how your team is performing.
Conclusion
Help your sales quotes stand out from the crowd with a process that saves you time, increases accuracy, and offers a full view of prospect-to-customer relationships. Veloxity offers the templates and software you need to make the quoting process fast, efficient, and effective.
Try Veloxity CRM Quote Maker today with a free 30-day trial. Experience the difference a modern sales CRM makes for your business.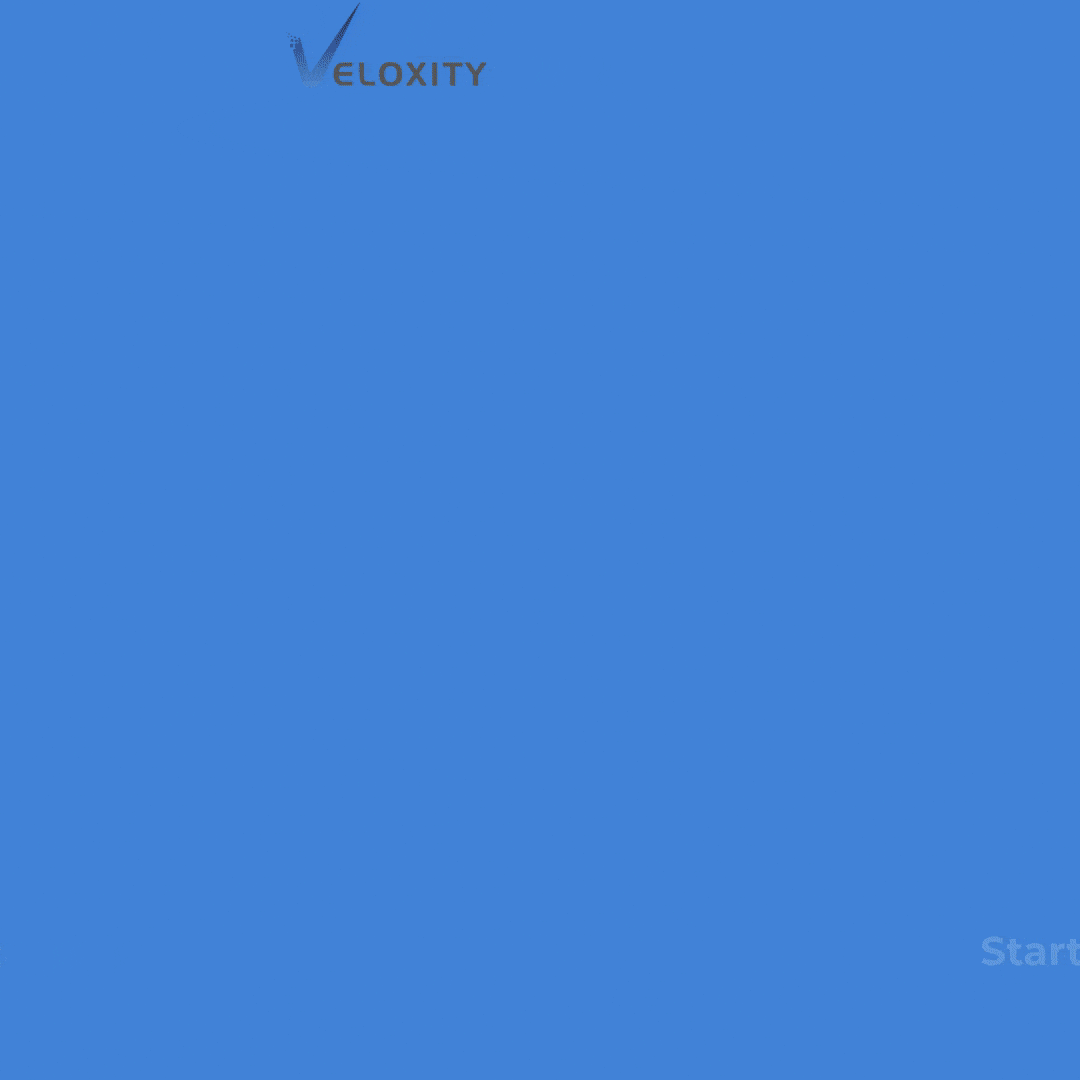 Veloxity CRM is a leading provider of Customer Relationship Management (CRM) software enabling you to manage your sales organization, products, and customer data. Veloxity CRM offers best-in-class usability with its innovative Hub, Kanban views, and more such as graphical Sales Division Management, Automated Lead Routing, and Intelligent Forecasting, all reachable through Veloxity's intuitive, responsive, web-based user interface. Veloxity is a platform that can be tailored to your particular business needs and is suitable for both B2C and B2B businesses. More information about Veloxity CRM is available at www.veloxity.com