CRM Software Buying Considerations: Choosing the Right CRM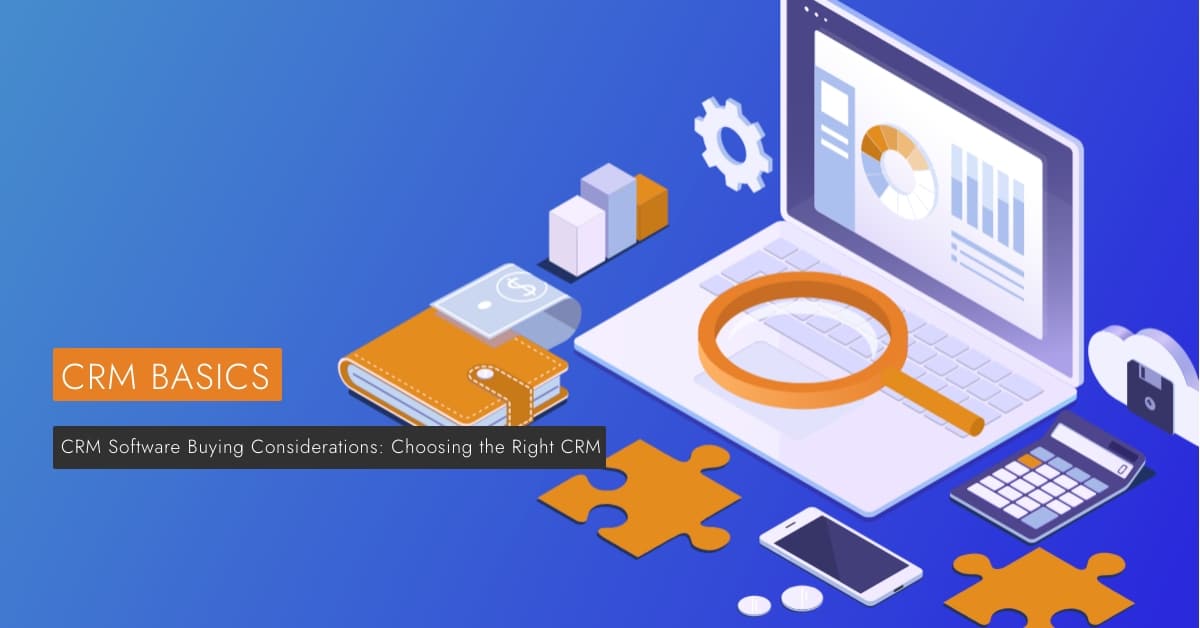 With so many options out there, choosing the right CRM software for your organization can be overwhelming. It is essential that you understand the CRM software-buying considerations.
A good CRM helps you better understand and manage your leads and customers. It can also help you better reward your employees and manage your relationships with vendors. Finally, a good CRM can meet you at your price point.
If you're thinking about choosing and integrating the best CRM software for your company, it's critical that you think about everything. In this post, we'll cover the most important CRM software-buying considerations to help you find the right CRM for your team.
What Would You Actually Use a CRM For?
Does your company even need a CRM at this stage? In our opinion, all businesses, especially B2B, manufacturing, and professional service providers will see an increase in profit, productivity, sales, and customer satisfaction by adopting a customer relationship management solution.
What Are the Basic Features Of CRM Software?
Visual sales pipeline and lead management
Contact management
Scheduling and communication tracking
Analytics and charting
Email integration
Main CRM Software Buying Considerations
Your Budget vs. Platform Requirements
Before you start shopping around for a CRM, consider your budget. Divide your maximum spend by the number of users to get a better understanding of what tiers you can afford. Next, start looking at various pricing models to find out which CRM offers the most features at your target price point.
Some CRM products may seem affordable at first, but the tools and features you need might only be available on higher-end editions you can't comfortably afford. For example, Zoho's 24/7 customer service is available only on the Enterprise edition, and if you're looking for rules automation, you'll have a hard time finding a CRM that offers this functionality on free or low-tier editions (Veloxity's rules automation engine is available on the Basic Edition, however).
Your Comfort Level & Willingness to Learn
If you're a small business owner, you don't want a CRM that takes forever to learn. You want a software that's intuitive and easy to adopt. We don't expect you to learn all the ins-and-outs of a CRM on day one, but you should find a CRM that doesn't require weeks of training.
On the other hand, if you're tech-savvy enough to take on a more complex ecosystem, you might not have any issue with CRMs like Salesforce, which has a reputation for being a bit tricky after you've customized your platform.
Determining your level of comfort with the software will help you eliminate some CRM solutions off your list.
Your Company's Existing Tools
Take a look at the platforms, software, and tools your company uses every day. How many applications do you have open at any given time? You should focus on the platforms that offer integrations of your existing tools to better streamline your operations and generate more accurate data.
Fortunately, most CRMs do offer third-party integrations for MailChimp, Outlook, Google Workspace, Calendly, Slack, and your social media pages.
Your Software Requirements
The most popular CRM solutions today are available as cloud-based platforms. Cloud-first CRMs have a lot to offer. Your employees can access the platform from anywhere at any time and you're guaranteed the most up-to-date version whenever you use it. If you want a CMS solution that offers mobility and an on-the-go app, we recommend going with a cloud solution.
On the other hand, an on-premise software version may be better suited for your business needs. For example, you may have no choice but to choose an on-premise CRM if there are security concerns or industry regulations that prevent you from storing data in the cloud.
Microsoft Dynamics is the best example of an on-premise CRM.
Your Company's Future Needs
If you're a startup or a small business poised for company growth, you might want to prioritize CRMs with features that are both extendible and extensible.
Customer relationship management platforms come in all shapes and sizes. Some offer limited flexibility, while others (like Veloxity, Zoho, Hubspot, Salesforce, and Microsoft Dynamics) provide an environment for endless expandability.
If company growth is your goal (and we're willing to be that's the case), consider choosing a CRM that can accommodate your changing needs with solutions for marketing, customer service, content management, and more.
You may not think that this is necessary now, but trust us, you'll want a CRM that allows for add-ons and customizations.
Customer Reviews
Never underestimate the power of a lengthy customer review. If a product seems too good to be true, a customer's first-hand experience will strip away the salesly speech and get right down to business.
CRM landing pages are designed to convince you to buy (obviously), so when you want to know what it's really like to use a CRM product, check out honest reviews from customers with hands-on experience who can share tips and valuable knowledge.
Take Advantage of Free Trials
There's nothing like practical experience to give you a real taste of what a CRM is truly like. Once you've weighed the reviews with the platform features, you'll want to spend time inside the platform to get a feel of what it's like.
A CRM may look great on paper, but you might not find it as intuitive as you expected. We highly recommend using free trials of various CRM products to find the one that feels right for you and your team.
Veloxity CRM is a future-proofed platform that's designed to grow with your business. Start your free trial today!